How to Cancel Your Subscription with Soliloquy
Have you been using Envira but for the time being, you don't need to use it? We understand. It sadly happens to the best of us.
This guide will show you how you can cancel your subscription with Envira.
---
What Does "Cancel My Subscription" Mean?
Soliloquy licenses are subscription based and therefore will automatically renew each year. When you choose to cancel your subscription that doesn't mean your sliders stop working.
When you cancel your subscription, you'll have access to support and updates through your paid term but your license will not auto-renew.
How to Cancel Your Soliloquy Subscription
Cancelling your Soliloquy subscription is very easy and can be accomplished in just 2 steps!
Step 1 – Select Cancel Subscription from the Member's Area
First, login to your Soliloquy Account. Once logged-in, select the Cancel Subscription link from the Actions column of your Member's Area Dashboard.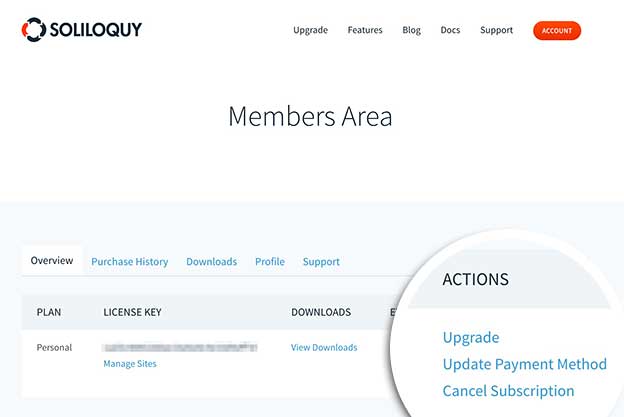 Step 2 – Confirm Your Cancellation
An alert box will popup asking you to confirm your cancellation. THIS ACTION CANNOT BE UNDONE! Be sure to select the OK button only if you're certain you wish to cancel your subscription.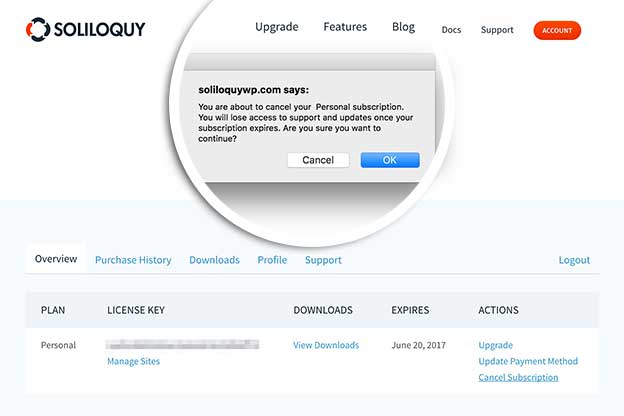 That's it! You've now cancelled your subscription with Soliloquy.
---
FAQs
Q: Once unsubscribed, how can I re-subscribe to Soliloquy?
A: When you decide to come back to Soliloquy, just log back into your account, pay for your subscription from within your account, and you'll again have access to support and updates!
---
Q: Why don't I have a 'Cancel Subscription' option in my account?
A: If you purchased before June 2016 your license is not a subscription and will not be auto-renewed. Your license will naturally expire at the end of its current term if you don't manually renew it.
---
Q: I've cancelled my subscription, why haven't I received a refund yet?
A: If you are within our 14-day money back refund guarantee period, cancelling your subscription does not automatically process a refund. If you are looking for a refund and you are within your first 14 days of purchase, please contact support to request your refund here: https://soliloquywp.com/contact/.
---