How to delay the captions on slider images
Would you like to delay the caption loading on your Soliloquy slider image? You can easily do that by enabling the setting to delay the caption! We'll walk you through how to delay the caption loading on your Soliloquy images.
---
Setup
Step 1 – Create or edit your slider
Your first step is to create a new slider or edit an existing one. You can follow along with our documentation for creating your first slider.
Step 2 – Set the delay on the caption
On the Configuration tab and configure the Caption Transition Delay option: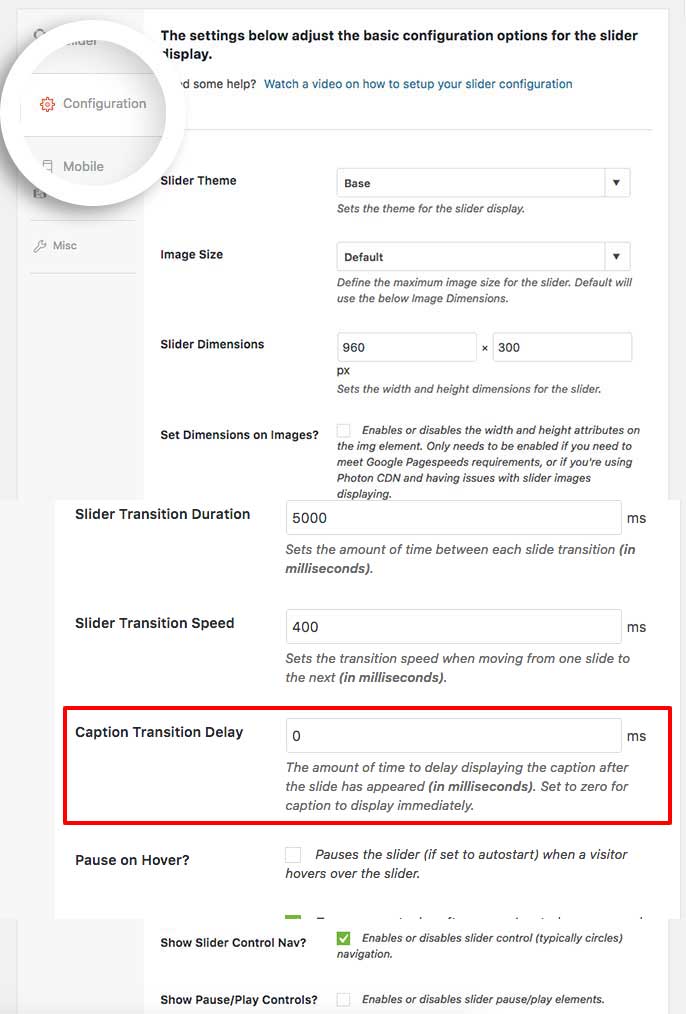 For example, if you set the delay to 5000, the slide image would load and then 5 seconds later the caption would display.
This effect would be applied to all captions for all slider images included in this particular slider.
Step 3 – Publish or Update your slider
Finally, click Publish or Update on your slider to save the changes.
And that's it! You've now delayed the caption from loading after the slider image loads!
Would you like to turn on the captions on mobile devices? Take a look at our article on How to Display Captions on Mobile.
---
FAQs
Q: How can I set this up per slide?
A: Unfortunately this setting applies to all the slider items in this slider. It isn't support to set up a delay for each particular slide in the slider at this time.