Creating Your First Slider
Are you ready to get started on creating your first slider? If you've already installed Soliloquy, this tutorial will give you a step by step guide on creating your first Soliloquy Slider.
---
Step 1: Add New Gallery
Your first step in creating your first Envira gallery is to click the Add New button in the Envira Gallery admin screen.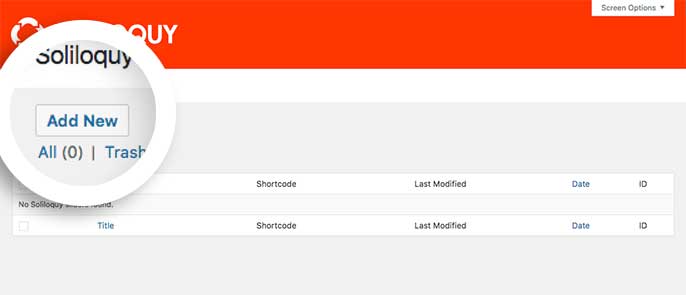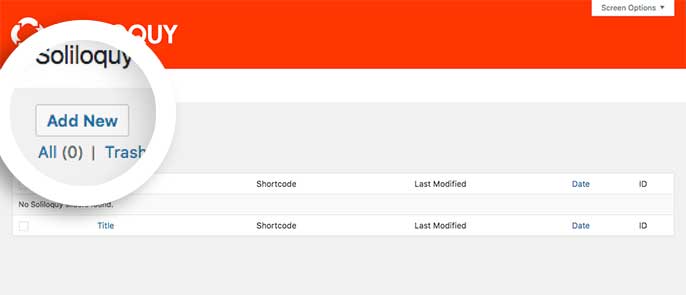 Step 2: Name Your Slider and Upload Images
This will open a blank slider screen ready for you to configure and add your images.
Start by giving your new slider a title.
We recommend you avoid using generic titles and instead try to give your sliders unique and easily identifiable titles to make it easier to manage them later on.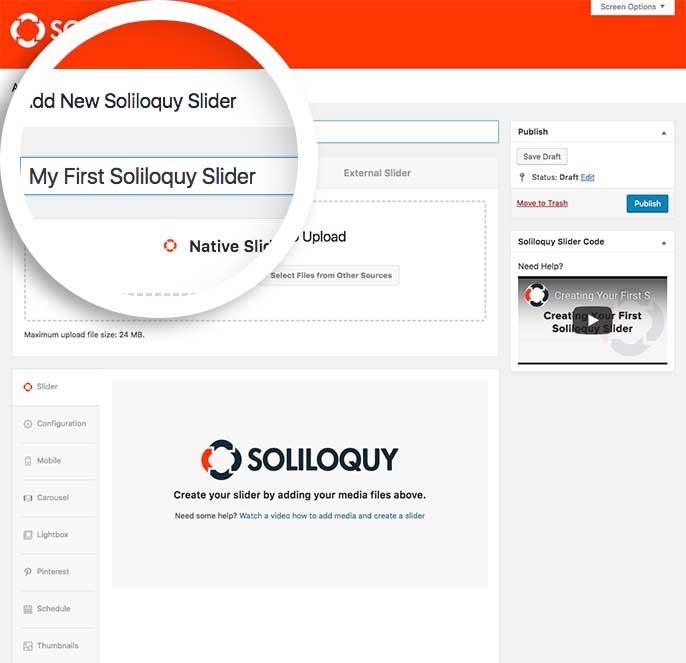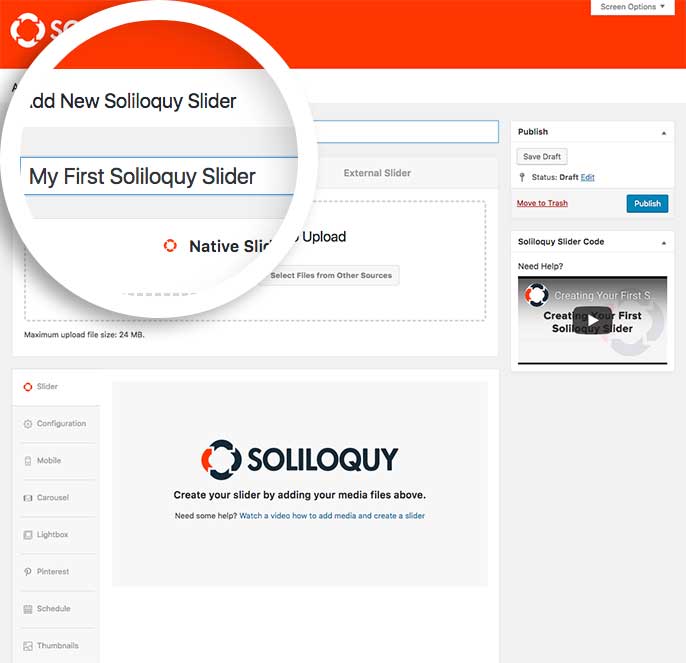 Next, you'll need to insert some images into your slider. You can add images to your slider in two ways:
Select Images from Your Computer
You can upload images into your slider by selecting the Select Images from Your Computer button.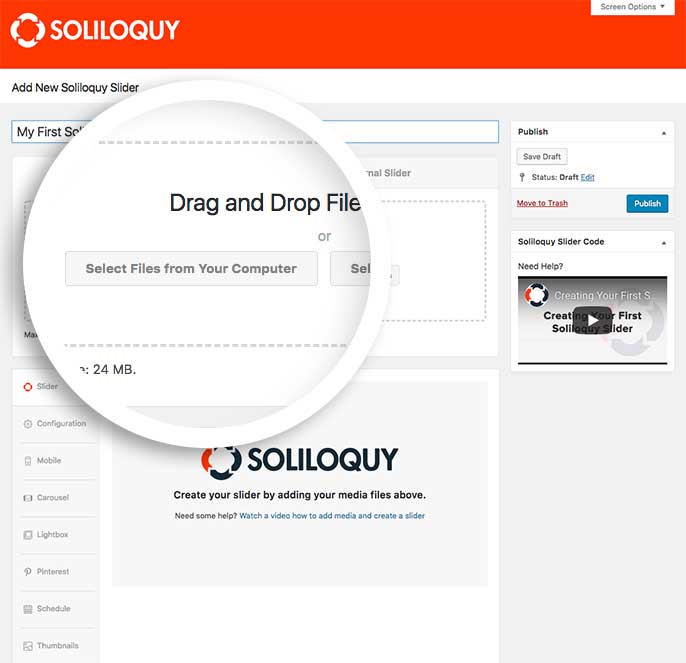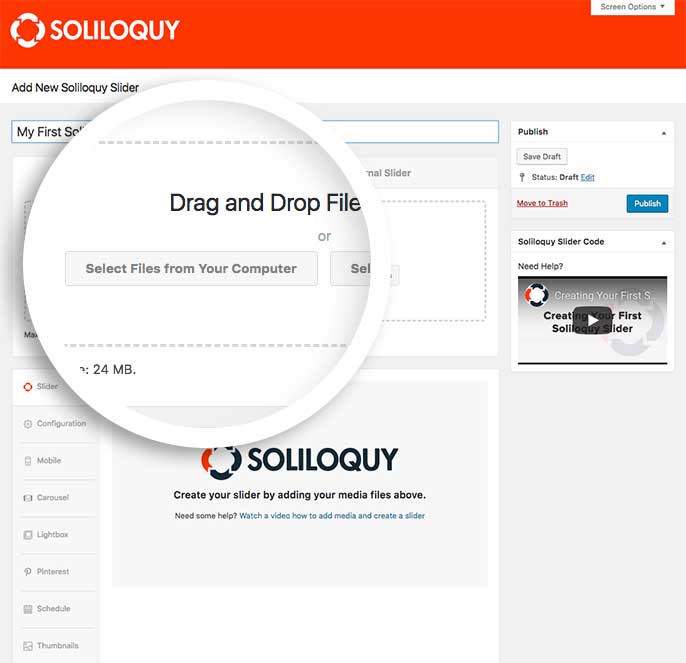 When using this option, your images are handled by and stored in the WordPress Media Library.
You can add those same images to other places in your site without having to upload them again!
Select Files from Other Sources
If you want to pick from the Media Library in WordPress, click the Select Files from Other Sources.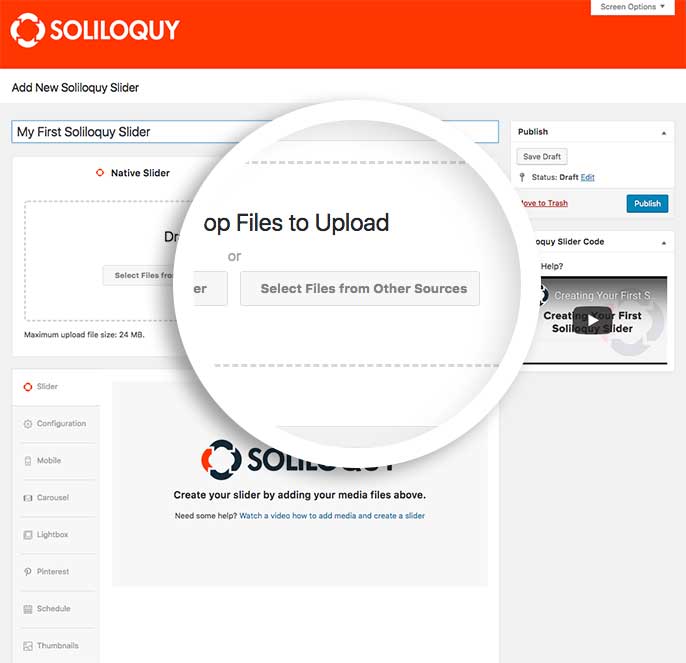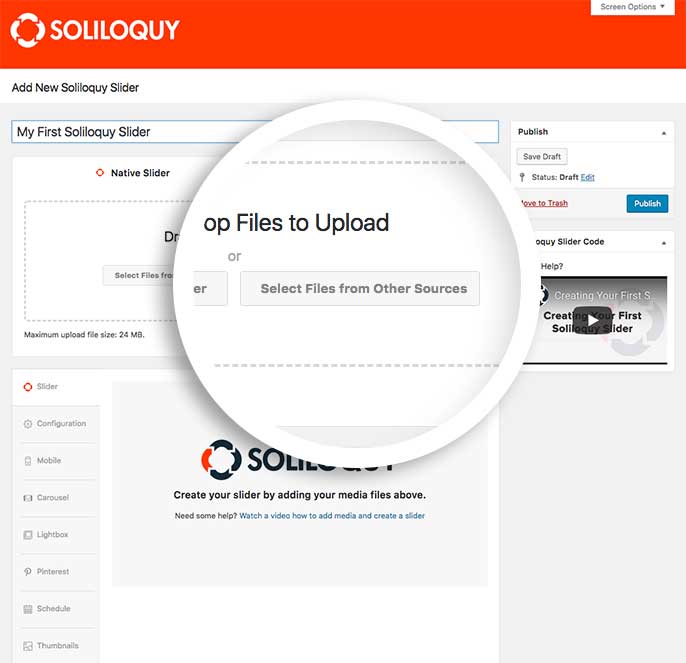 You'll have 2 tabs to choose from for uploading.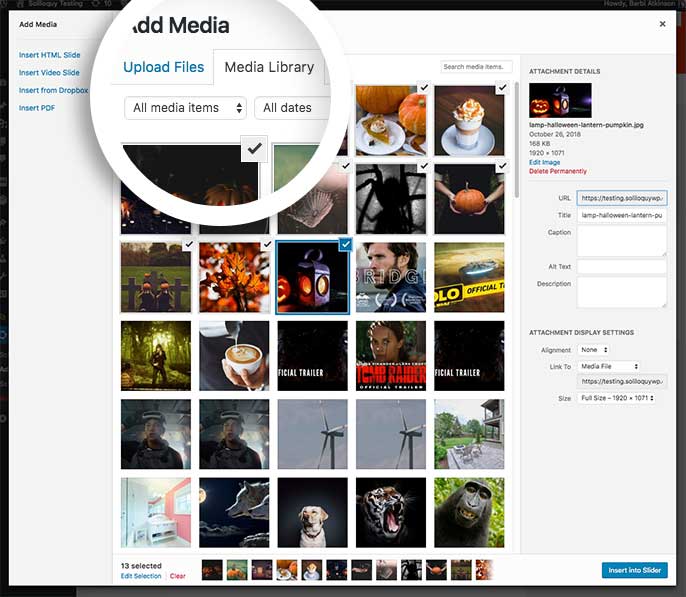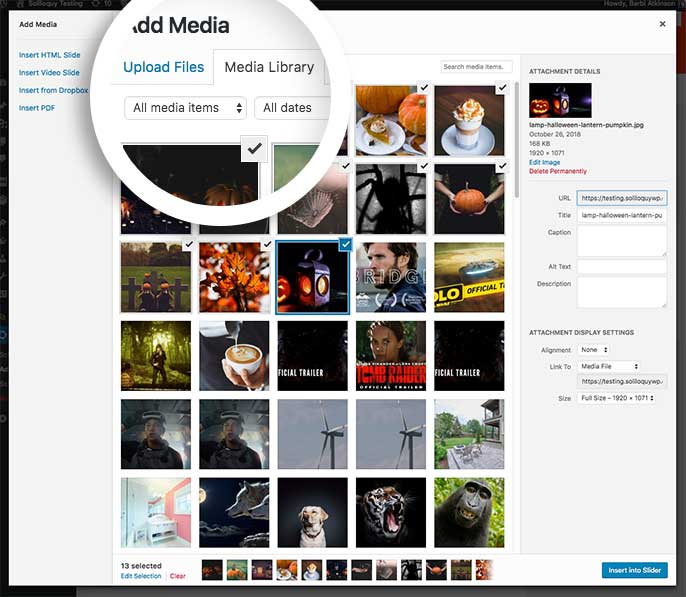 If you select the Upload Files tab you can just drag and drop your images from your computer into this area and it will automatically upload them into WordPress Media Library.
Or you can select the Media Library tab and just pick the images from the Media Library to insert into your gallery.
In this example, we'll be adding images to our gallery from the Media Library.
If you want the images you add from the Media Library to show the original image in Lightbox view, be sure the Attachment Display Settings are set to link to the Media File. You can adjust this setting if you don't use Lightbox functionality and want to link to the Media Page, or a custom URL when the user clicks the image.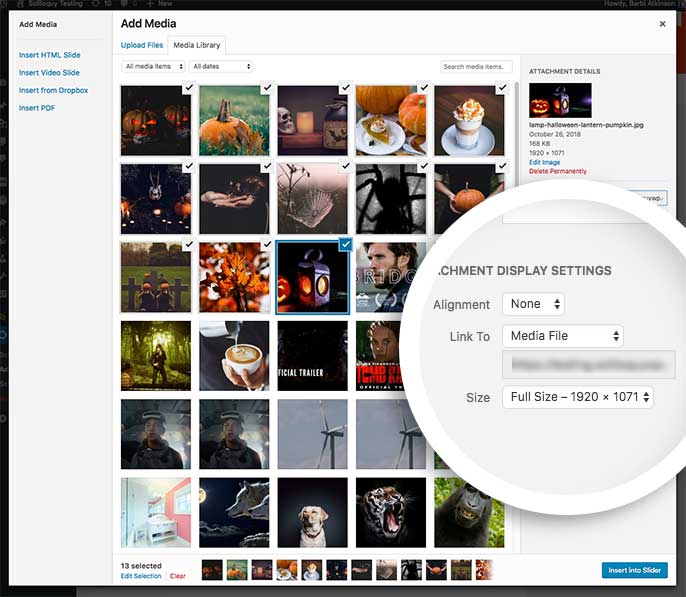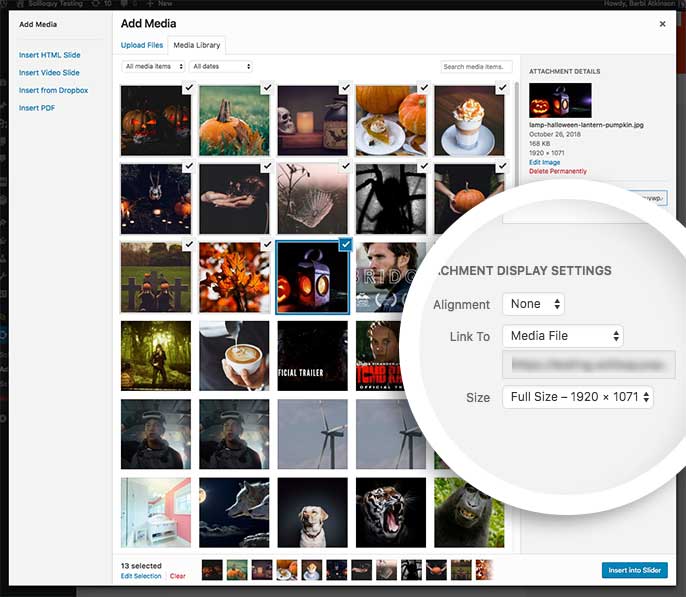 Once you've chosen the images you want to add to your slider from the Media Library, select the Insert Into Slider button.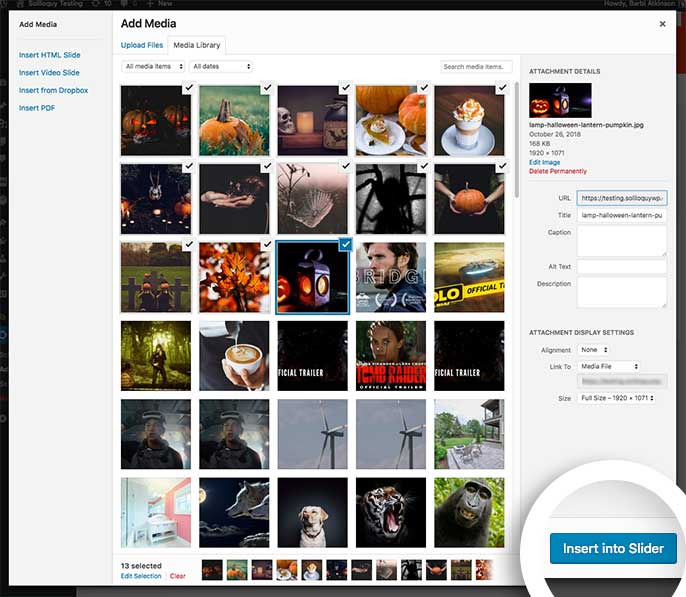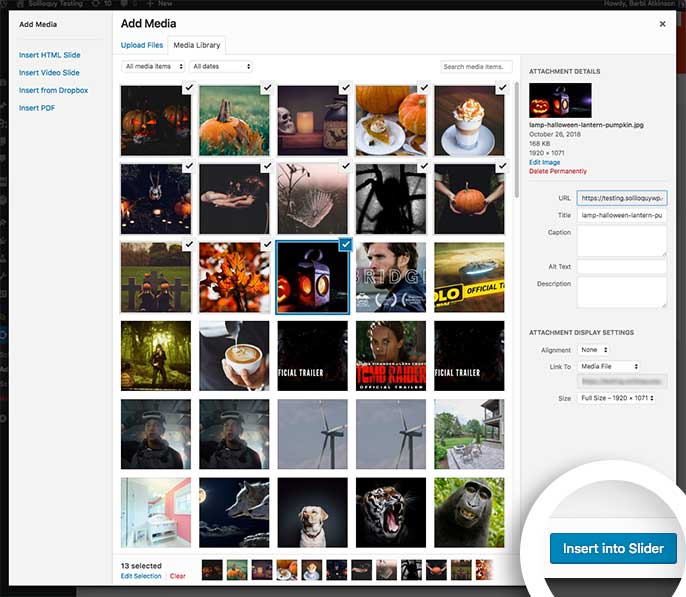 Step 3: Editing Image Metadata (optional)
Editing the metadata allows you to customize the image Title, Caption, Alt Text (recommended for SEO and for visitors using screen readers) and edit the URL each image links to as well as many other settings depending on the Soliloquy addons you have installed and activated.
To edit the metadata for a photo, select the pencil icon on the top left of an image's thumbnail: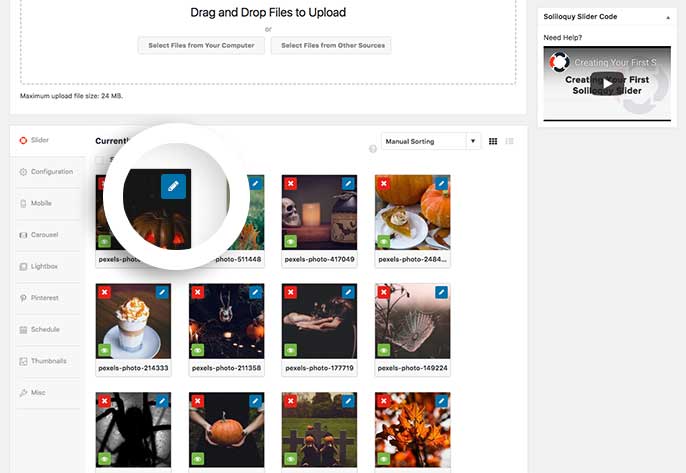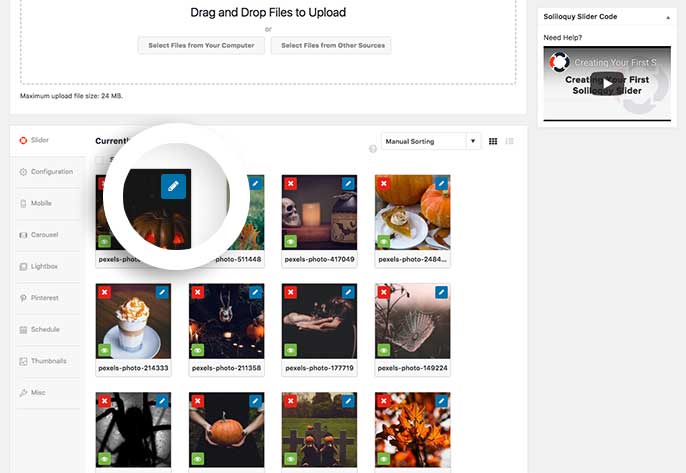 This will open the Edit Metadata window.
Modify any of the fields you wish and select the Save Metadata button to save the changes.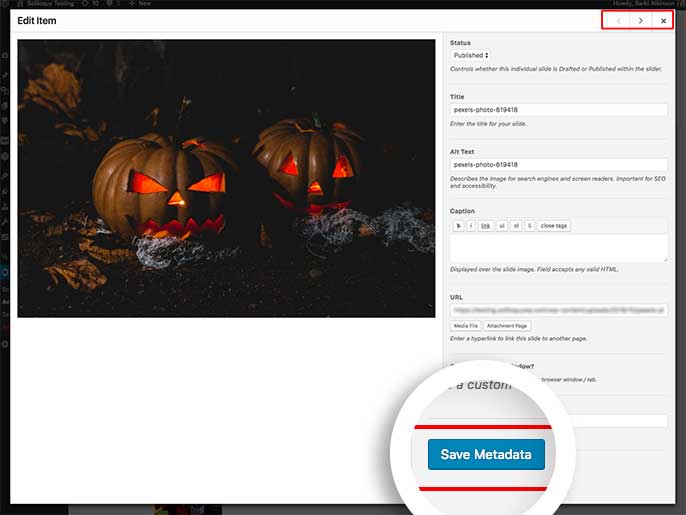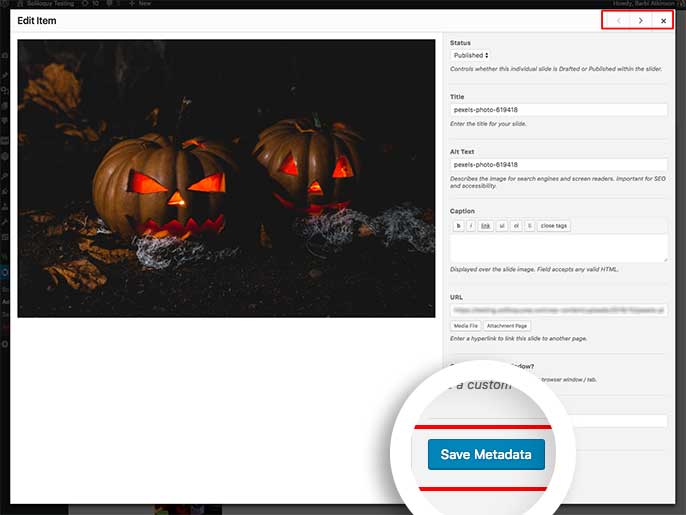 You can easily use the right and left arrows in the top right-hand corner of the pop up to edit each image in your slider and repeat these steps for each image.
Step 4: Configure Your Slider (optional)
The next thing you'll want to do is configure the options of the Soliloquy slider to fit your needs.
Each of the tabs you see for your slider configuration will depend on your license level and the installed addons.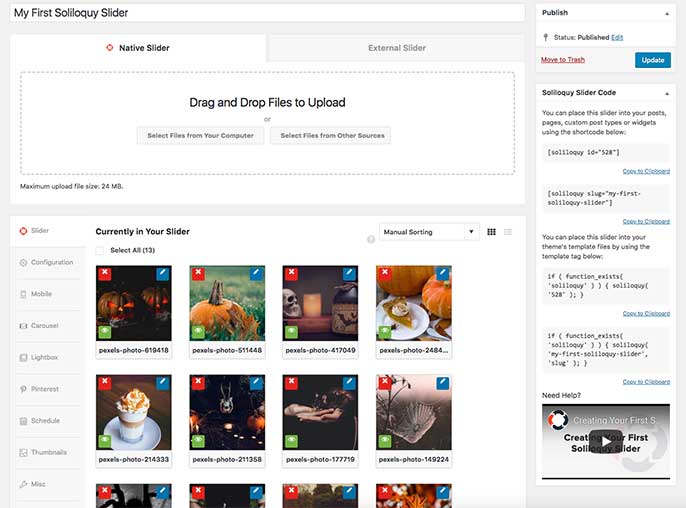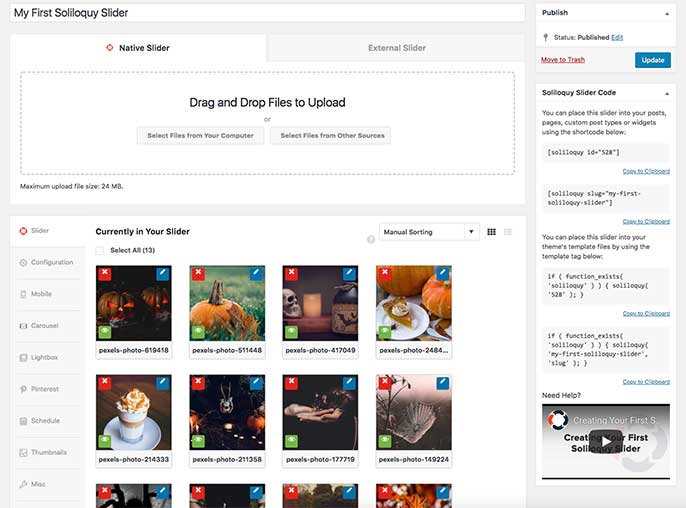 You can choose to set up your Slider Dimensions on the Configuration tab or Enable the Lightbox on the Lightbox tab. The setup is completely up to you.
Once you have changed your settings, select the Publish or Update button to save the changes.
Step 5: Embed your Soliloquy Slider
After you've published your slider, you can see your available insert options in the sidebar.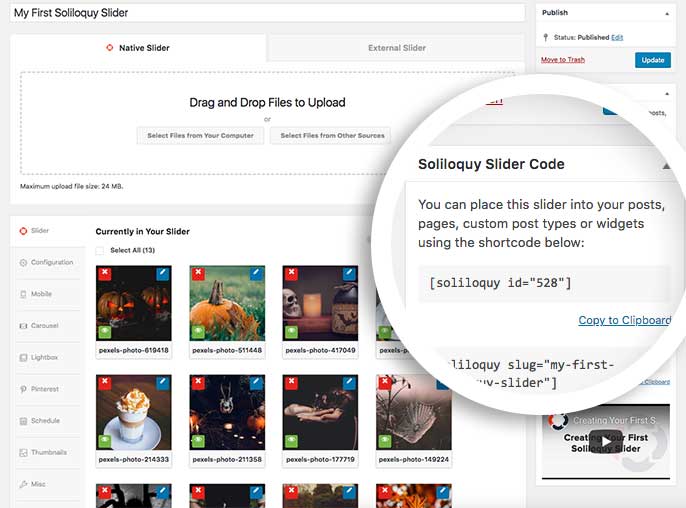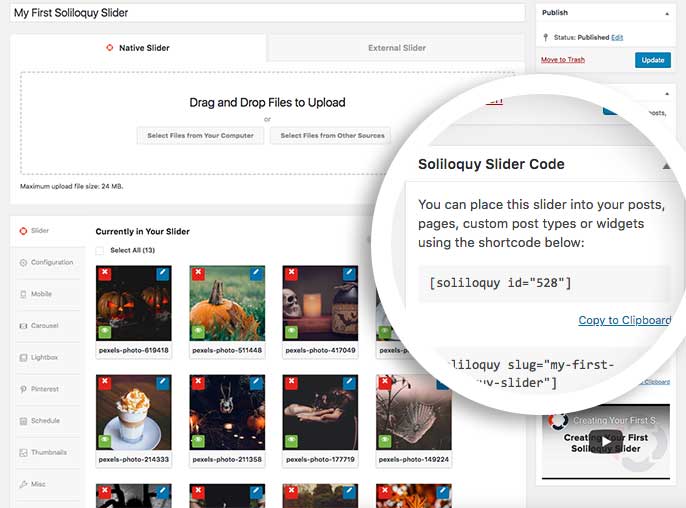 Finally just create a new page, select the Add Slider button.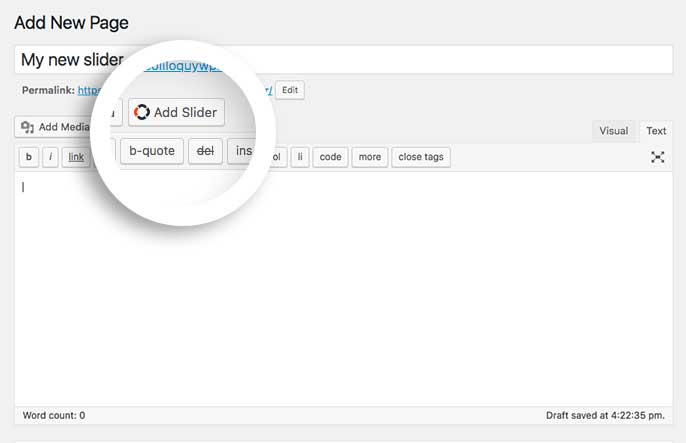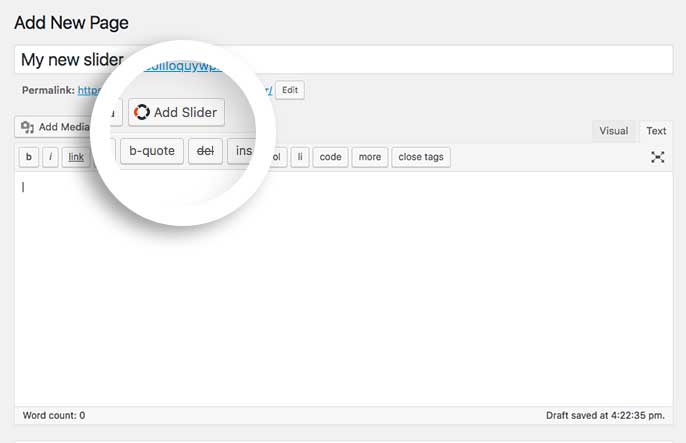 Choose the slider you want to add and then select the Insert button.
Publish your new page and view it on the front-end of your site to see the new slider you've created.
Congratulations, you have now completed your first Soliloquy slider!  Feel free to go and tweak your slider as you see fit to best meet your needs. Enjoy!
Now that you've completed your first slider, be sure to check out our blog for new tips!