New Addon, Soliloquy Updates and Updated Member's Area
Today marks another step forward in the power and flexibility of Soliloquy. I've just released a new addon: Preview.
The Soliloquy Preview Addon allows you to Preview your slider right from within the slider edit screen. It allows you to adjust settings and test changes to your slider without actually having to save them. Using Ajax, the Preview Addon generates an exact replica of your slider in a metabox with your current settings.
Sweet, huh? This is an excellent tool to provide clients that want to tinker with their slider or if you don't have any staging type of area for your live site. Changes are only put into effect when you actually publish or update your slider.
As with all addons, the Soliloquy Preview Addon is only available to Developer license holders.
I've also released Soliloquy v1.0.8 today which adds some checks to ensure that no undefined index notices appear with WP_DEBUG on.
Finally, I've refreshed the Member's Area to add full support for Addon latest version download links, release archives and changelogs. I've also utilized the jQuery cookie plugin so that you will return to the latest tab state when you visit your Member's Area page. Check out the screenshot below to see what the Addons tab looks like now.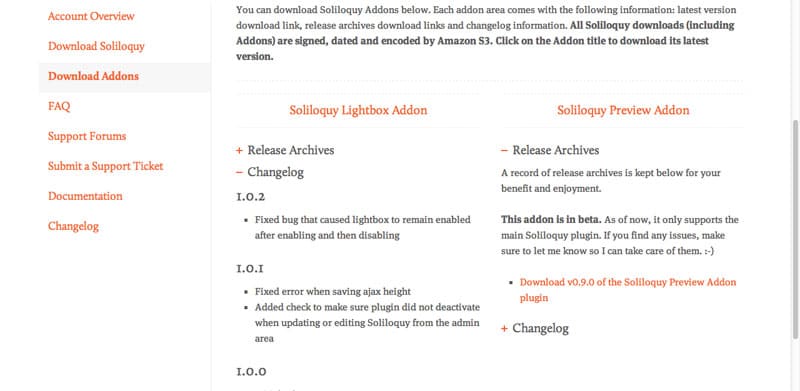 If you want to see the Preview Addon live in action, head on over to the Soliloquy demo site to give it a test run! 
As a side note, FlexSlider v2 just came out in beta this week. It has many exciting new features, including full thumbnail navigation and a carousel option. You can expect to see the Thumbnails Addon and more when the official release of v2 is made.