Beginners Guide on How to Add Videos in WordPress Posts
Do you want to add videos in the posts of your site? Having the visual content is a great way to attract more visitors and make them stay long on a post. In this tutorial, we will share how to add videos in WordPress posts.
The famous video hosting sites like YouTube, Vimeo and others can be used to display videos in WordPress. You can simply drag and drop the URL of a video in the WordPress post and it will be displayed automatically.
Add Videos in WordPress Posts
To embed a video in WordPress, simply go to Posts » Add New or edit an existing post. In the visual editor, you need to drop the URL.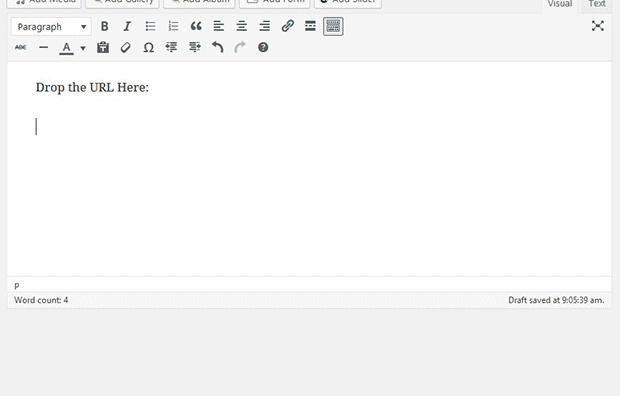 Make sure that the URL is not clickable. It will show you the preview of the video in the visual editor of your post.
Here's a list of video hosting sites and services that are allowed by WordPress for auto-embeds:
Animoto
Blip
Cloudup
CollegeHumor
DailyMotion
Facebook
Flickr
FunnyOrDie.com
Hulu
Imgur
Instagram
Issuu
Kickstarter
Meetup.com
Mixcloud
Photobucket
PollDaddy
Reddit
ReverbNation
Scribd
SlideShare
SmugMug
SoundCloud
Speaker Deck
Spotify
TED
Tumblr
Twitter
VideoPress
Vimeo
Vine
WordPress plugin directory
WordPress.tv
YouTube
For other platforms, you need to use the embed code of videos to display them in posts.
Why You Shouldn't Upload a Video in WordPress?
A video has a larger size and it can take a lot of space on your website hosting server. It is not recommended to upload video files directly to WordPress posts.
If you upload a video in WordPress and it get loads of viewers, then your site may crash or the page load time increases to an uncertain limit. However, you can simply use the third-party services like YouTube, Vimeo and more (listed above) to add videos and display them in your blog posts.
We hope this tutorial has helped you to learn how to add videos in WordPress posts. You may also want to check out our guide on how to add images in WordPress. In case, your videos and images are not ranking in the search engines, you should check this ultimate WordPress SEO guide.
If you like this tutorial, then please follow us on Facebook and Twitter for more free WordPress guides and resources.