PDF Addon
Soliloquy makes it easy to create PDF sliders with the PDF Addon. Follow our guide to learn how to create a PDF slideshow using Soliloquy today!
---
Requirements
Installation
Please follow our instructions on how to install and activate addons.
In this instance, you'll be activating the Soliloquy PDF Addon.
Setup
Step 1 – Create a new slider
Your first step is to create a new slider. You can do this by clicking Add New under the Soliloquy menu option on the left.
Step 2 – Upload the PDF document
Next, click the Select Files from Other Sources button and then choose Insert PDF.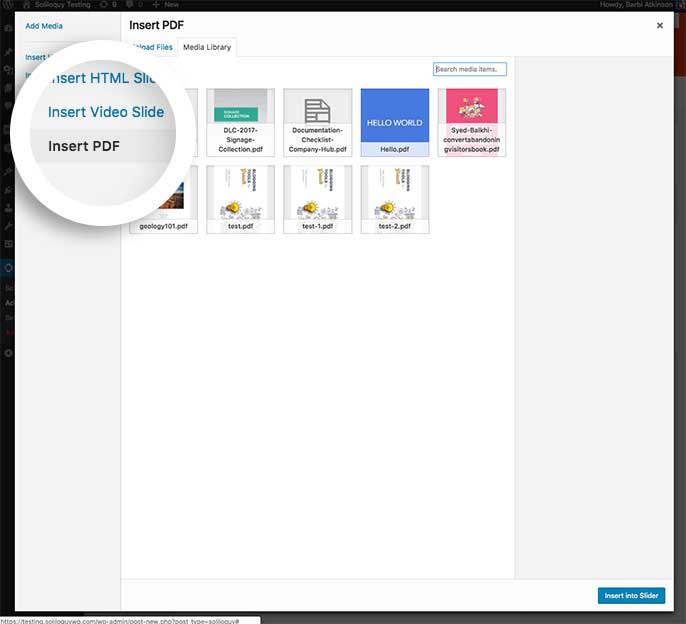 Once you've selected the PDF from your Media Library or have manually uploaded it click the Insert Into Slider button.
You'll see a message at the top of your slider page letting you know the PDFs are being processed.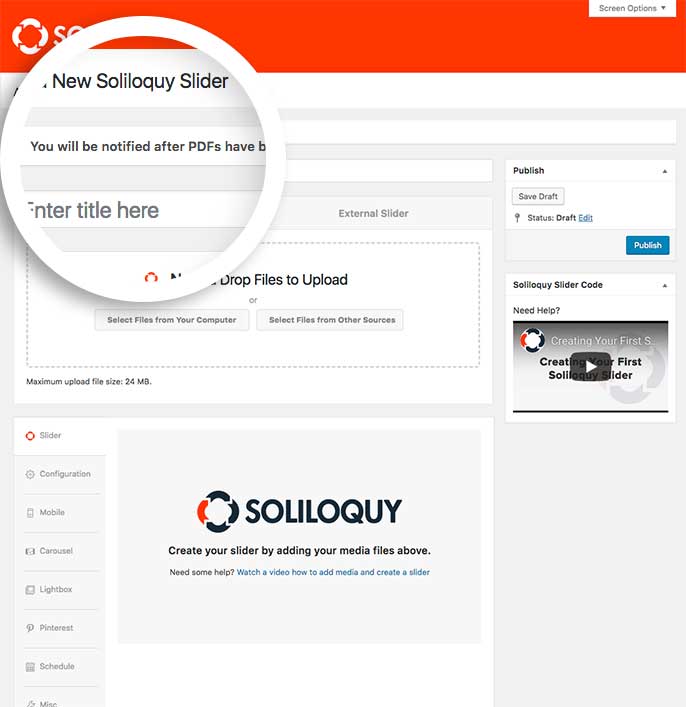 Step 3 – Publish your slider
You don't need to wait for the notification. You can just click Publish on your slider. This process can take some time and depending on the server set up, you may not receive notification.
That's it, you've successfully created a PDF Slideshow using Soliloquy to automatically convert PDF files into slides!
Would you like to create a Woocommerce slider? Take a look at our tutorial on How to use the Woocommerce Addon.
---
FAQs
Q: What is the max filesize I can upload to convert PDF's to a slider?
A: Soliloquy doesn't limit you to any specific filesize. The filesize you can upload will depend upon your specific server configuration. If you're experiencing time out issues or file upload problems you'll want to consider increasing the max_execution_time and max_upload_size settings for your server.
---
Q: Can I convert multiple PDF files at one time in a single slider?
A: Yes! You can select multiple PDF files to be converted within the same slider. If you need to rearrange the generated slides once the conversion process is complete you can simply drag and drop the slides into the order you desire within the Slider tab.
---
Q: Why isn't the PDF Addon working on my localhost installation?
A: Our PDF Addon will not work on localhost WordPress installations. You'll need to push your site to a remote server to use the PDF Addon.
---
Changelog
1.0.2 (04-14-2022)
1.0.1
1.0.0
Initial release of the addon!