WooCommerce Addon
The WooCommerce addon allows you to easily create a slider displaying products and their featured images in less than 3 minutes. It is easy to set up your WooCommerce Slider today!
Installation
You will first need to install and activate the WooCommerce Addon.
How It Works
When creating a new or editing an existing slider, within the External Slider tab you have the option to select WooCommerce as your Slider Type: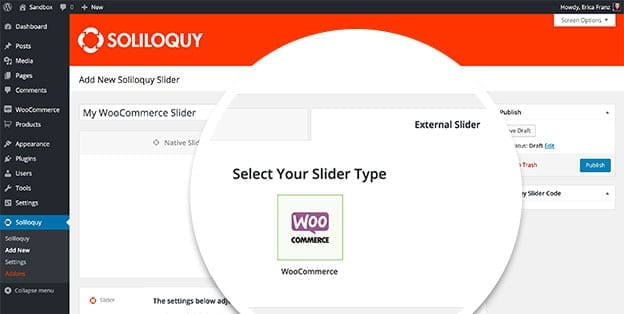 Doing so will present you with a number of options to configure your WooCommerce Slider within the Slider tab:
Click Here to View All Configuration Options
Changelog
1.1.3 (2016-09-06)
1.1.2 (2016-08-31)
Added: Option to disable caching
Fix: various minor bugs
1.1.1 (2016-06-30)
Image Fallback now has upload button
1.1.0 (2016-06-21)
1.0.1 (2016-03-23)
Fix: PHP Notice Undefined Index
1.0.0
Initial release of the addon!