How to Add Videos to Soliloquy
Would you like to create a video slider? Soliloquy comes equipped ready for you to start adding your YouTube, Vimeo, Wistia and self-hosted videos inside the slider.
---
Step 1 – Create or Edit Slider
The first step is to create or select a slider to edit.
Step 2 – Add Video Slide
From the slider edit screen, select the Select Files from Other Sources button from the Native Slider section.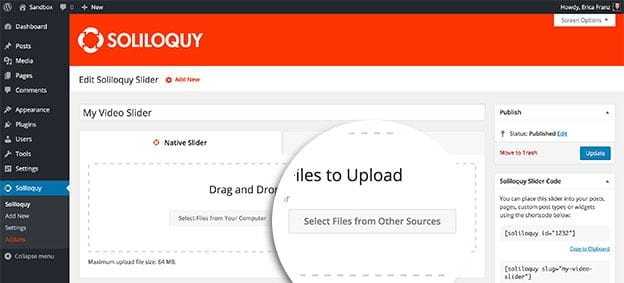 This will open the Insert Media lightbox. Select the Insert Video Slide link from the left sidebar: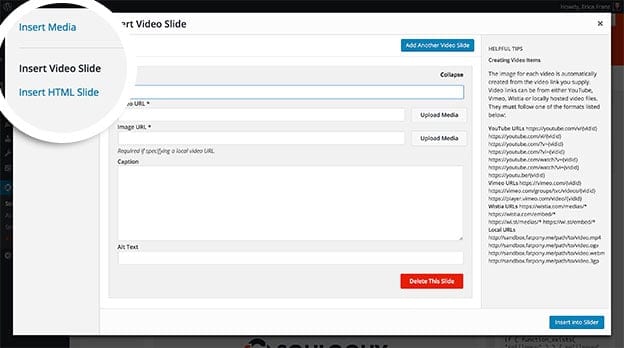 This will then display the following fields for you to add your first video slide:
Title – required
Video URL – required
Image URL – required if adding a self-hosted video
Caption – optional
Alt Text – optional, strongly recommended for SEO and Accessibility (e.g. screen readers, etc)
Enter the required fields, and optional fields as you desire: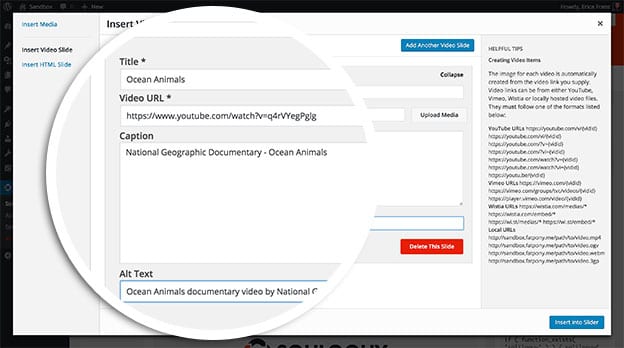 When you're finished, select the Insert into Slider button to add your video slide: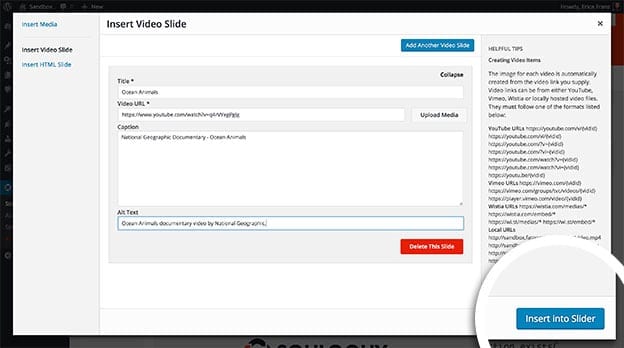 Step 3 – Configure Your Slider (optional)
Lastly, we recommend you configure the dimensions of your slider in the Config tab to make sure it displays in the correct proportions to best highlight your videos! For example if your videos are 4:3 or 16:9 proportions you'll want to account for this when setting the dimensions of your slider.
That's it! Publish or update your slider and you've successfully created a video slider!
Want to see a Soliloquy Slider with video in action? Check out this video slider we made using Soliloquy:
---
FAQs
Q: Can I add multiple video slides at one time?
A: Yes! You can select the Add Another Video Slide button at the top of the Insert Video Slide lightbox to add more video slides at one time.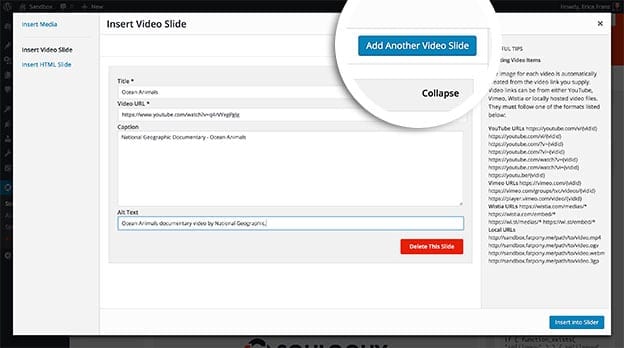 This will output an additional set of fields each time you select it, allowing you to more quickly populate a video slider.