Lightbox Addon
The Lightbox Addon allows your website visitors to see your images in a highlighted fashion. It is easy to set up your sliders with the Lightbox addon.
---
Requirements
Installation
Please follow our instructions on how to install and activate addons.
In this instance, you'll be activating the Soliloquy Lightbox Addon.
Setup
Step 1 – Create or edit your slider
Your first step is to create a new slider or edit an existing one. You can follow along with our documentation for creating your first slider.
Step 2 – Configure the Lightbox options
Now it's time to enable the lightbox for your slider. To do this, navigate to the Lightbox tab and click the box for Enable Lightbox? and then configure your lightbox settings.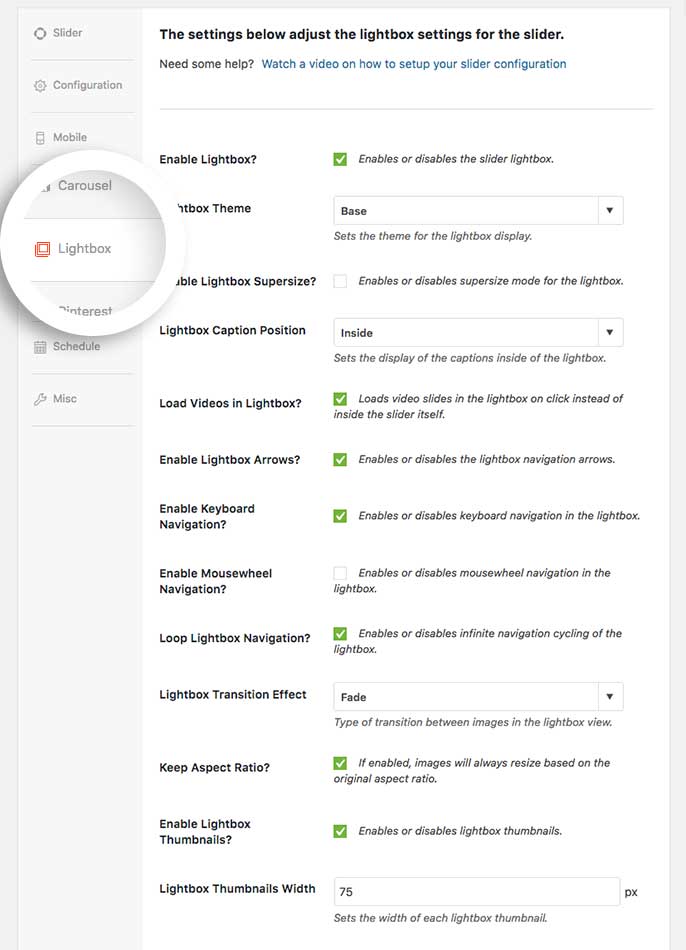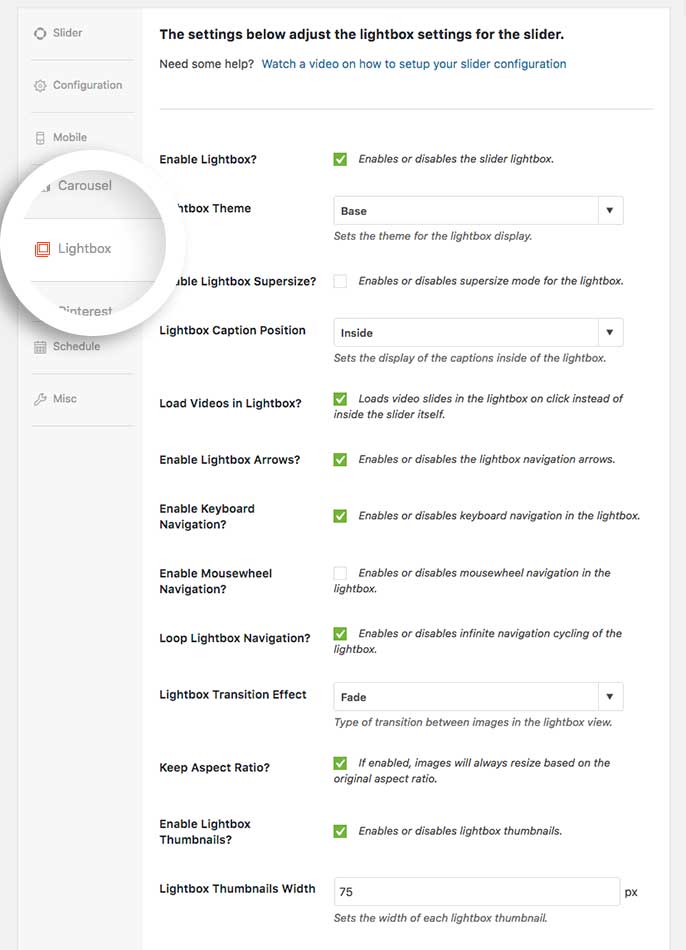 Step 3 – Publish or Update your slider
Finally, click Publish or Update on your slider to save the changes.
Would you like to change your lightbox theme? You can easily do that with the Slider Themes Addon, have a look at our documentation on How to use the Slider Themes Addon.
Changelog
2.3.2 (12-10-2018)
Fixes: Karisma Theme arrows.
Fixes: Mixed video and lightbox slides not loading.
Fixes: Minor bug fixes.
2.3.1 (2016-08-31)
2.3.0 (2016-06-21)
2.2.8 (2016-02-23)
Added: fr_FR Translations
2.2.7 (2016-01-21)
Added: HTML5 data-attribute option
Added: Conditionally show lightbox configuration fields when editing a slider, if the lightbox option is enabled
2.2.6 (2015-07-16)
Removed: mousewheel JS, which is now in Soliloquy 2.4.2.1+
2.2.5
Fix: Lightbox Thumbnails for IE dropping onto multiple lines
2.2.4
Fix: Thumbnails in Lightbox dropping onto two lines when a large number of thumbnails are displayed.
Fix: Local videos sometimes would not fit inside lightbox, resulting in scrollbars being displayed.
2.2.3
Added: Classic, Karisma and Metro themes
2.2.2
Added: Local video support
2.2.1
Added: Enable/Disable Lightbox on Mobile
2.2.0
Added: Touchswipe support
Added: Minified JS and CSS
2.1.9
Fix: ID error on lightbox images in Edit Metadata window.
2.1.8
Added: Localization support.
Fix: ID error on lightbox images.
Fix: Dynamic Addon when generating lightbox thumbnails within page attachments.
2.1.7
Fixed bug with showing clone slide assets inside lightbox views.
2.1.6
Added ability to allow shortcodes to be parsed inside of the lightbox captions.
2.1.5
Fixed bug with JS object keys not being set properly and causing errors with the Dynamic Addon.
2.1.4
Fixed bug where lightbox thumbnails were duplicated with video slides.
2.1.3
Fixed bug where lightbox thumbnails were duplicated with slide transition.
2.1.2
Fixed bug where lightbox thumbnails would not be generated if main slider cropping was turned off.
2.1.1
Fixed bug with CSS styles in lightbox titles.
2.1.0
2.0.0
Say hello to version 2.0!