Lightbox Addon
The Lightbox Addon allows your website visitors to see your images in a highlighted fashion. It is easy to set up your sliders with the Lightbox addon.
---
Installation
You will first need to install and activate the Lightbox Addon.
How It Works
When creating a new or editing an existing slider, within the Lightbox tab you'll be able to configure your slider's lightbox functionality: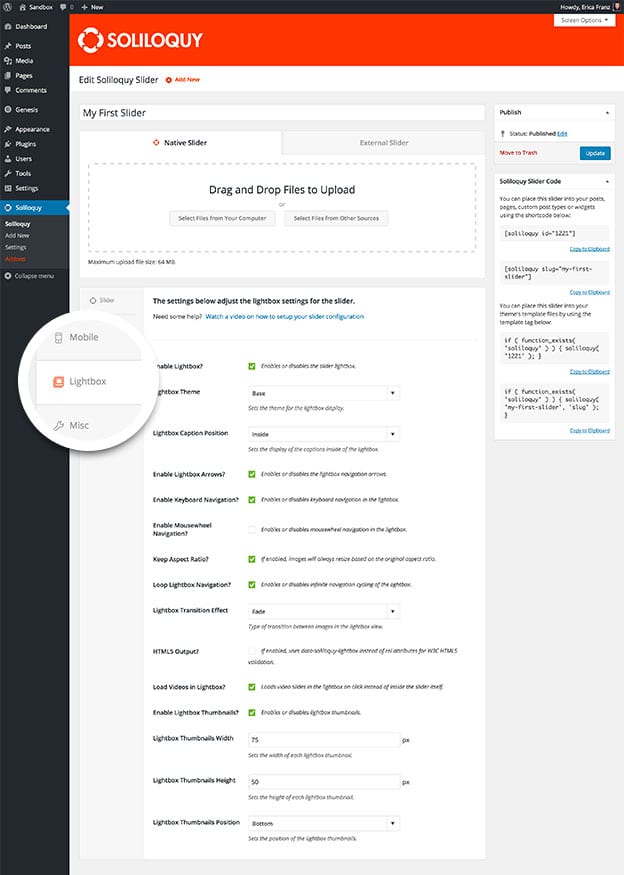 Click Here to View All Configuration Options
Mobile Settings
You'll also find an additional option available in the Mobile tab to enable Lightbox display on mobile devices when using the Lightbox Addon
Click Here to View All Configuration Options
In addition to the Lightbox capabilities, you also have a setting from the 'Edit Metadata' screen.  To access this screen, simply edit any slider you have and click the blue 'pencil' icon on the image you wish to edit, a pop-up window will appear that looks like the screenshot below: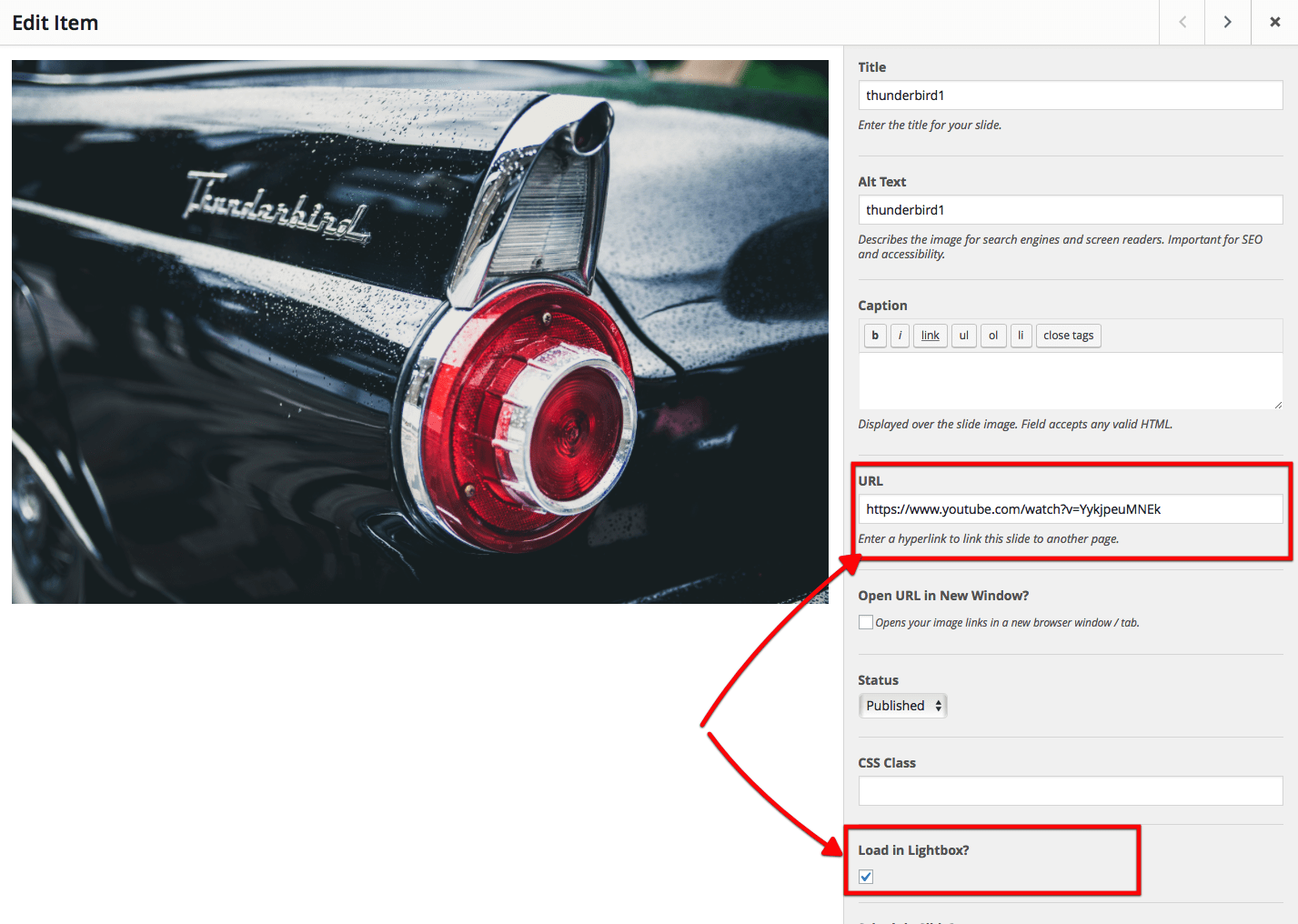 Load in Lightbox?
The 'Load in Lightbox' check is added to your Edit Metadata screen which will take any video or image URL you have placed in the highlighted field above and load that URL in the lightbox.  For this example, we wanted the slider image to open a YouTube video when clicked by:
Enabling the Lightbox from the Lightbox Tab
Editing the image and checking the 'Load in Lightbox?' (as shown above)
Once those changes are made to the Edit Metadata screen, simply scroll to the bottom and click 'Save Metadata' and your new information will be saved to the slider image.
---
PDF Slider FAQs
Q: Why does my lightbox not work for all of my images?
A: This issue can happen if you have edited individual slides and enabled the Load in Lightbox? option for some, but not all slides.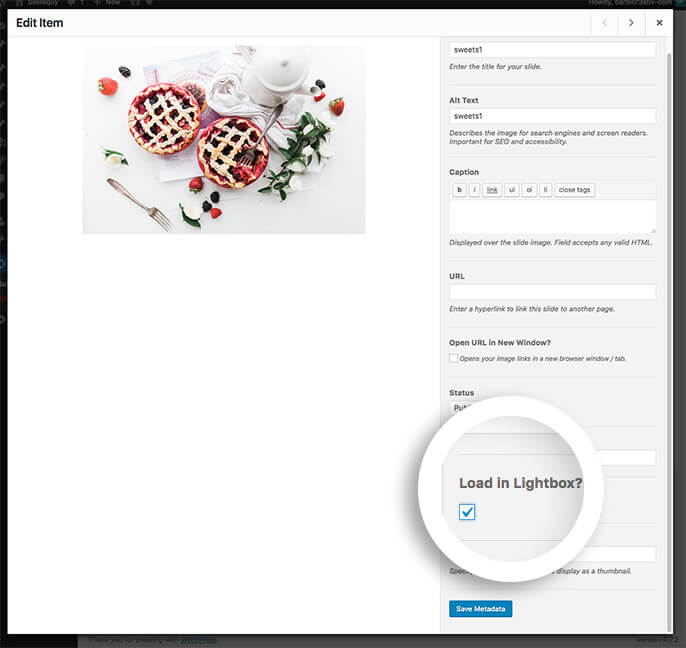 To resolve the issue, make sure you have enabled the lightbox from the Lightbox tab as well: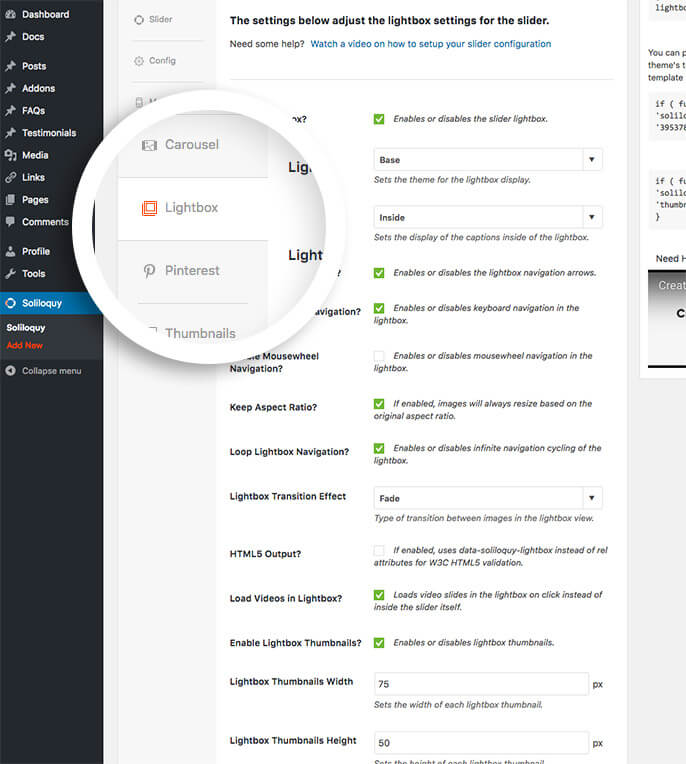 When creating your slider for the first time, if you are planning to have ALL images load in the lightbox, there is no need to edit each image. Just create your slider and enable the lightbox option from the Lightbox tab and it will automatically enable the lightbox for every image in the slider.
---
Changelog
2.3.1 (2016-08-31)
2.3.0 (2016-06-21)
2.2.8 (2016-02-23)
Added: fr_FR Translations
2.2.7 (2016-01-21)
Added: HTML5 data-attribute option
Added: Conditionally show lightbox configuration fields when editing a slider, if the lightbox option is enabled
2.2.6 (2015-07-16)
Removed: mousewheel JS, which is now in Soliloquy 2.4.2.1+
2.2.5
Fix: Lightbox Thumbnails for IE dropping onto multiple lines
2.2.4
Fix: Thumbnails in Lightbox dropping onto two lines when a large number of thumbnails are displayed.
Fix: Local videos sometimes would not fit inside lightbox, resulting in scrollbars being displayed.
2.2.3
Added: Classic, Karisma and Metro themes
2.2.2
Added: Local video support
2.2.1
Added: Enable/Disable Lightbox on Mobile
2.2.0
Added: Touchswipe support
Added: Minified JS and CSS
2.1.9
Fix: ID error on lightbox images in Edit Metadata window.
2.1.8
Added: Localization support.
Fix: ID error on lightbox images.
Fix: Dynamic Addon when generating lightbox thumbnails within page attachments.
2.1.7
Fixed bug with showing clone slide assets inside lightbox views.
2.1.6
Added ability to allow shortcodes to be parsed inside of the lightbox captions.
2.1.5
Fixed bug with JS object keys not being set properly and causing errors with the Dynamic Addon.
2.1.4
Fixed bug where lightbox thumbnails were duplicated with video slides.
2.1.3
Fixed bug where lightbox thumbnails were duplicated with slide transition.
2.1.2
Fixed bug where lightbox thumbnails would not be generated if main slider cropping was turned off.
2.1.1
Fixed bug with CSS styles in lightbox titles.
2.1.0
2.0.0
Say hello to version 2.0!