Defaults Addon
The Defaults Addon for Soliloquy allows you to quickly define your own custom default Configuration settings to use when creating new Soliloquy slideshows, instead of Soliloquy's defaults.
Installation
You will first need to install and activate the Defaults Addon.
How It Works
Once the Addon has been installed and activated, there will be a new gallery item named Soliloquy Default Settings. This is used to define the new default settings for each new slider you create.
Important: This will not change the settings of any existing sliders.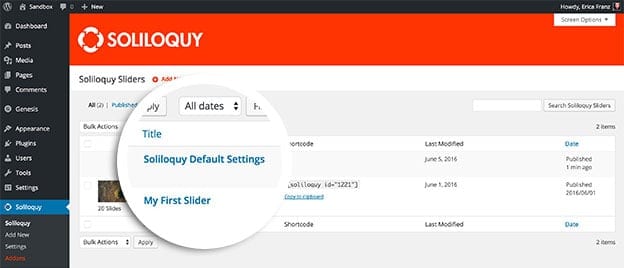 Edit the Soliloquy Default Settings slider, save the changes and your new defaults will be used when creating new sliders!
---
Changelog
2.1.2 (2016-08-31)
2.1.1 (2016-06-30)
Fix: Defaults not being set
2.1.0 (2016-06-21)
2.0.2 (2016-02-23)
Added: fr_FR Translations
2.0.1 (2015-12-23)
Added: Option to choose which slider to inherit defaults from when creating a new Slider
2.0.0