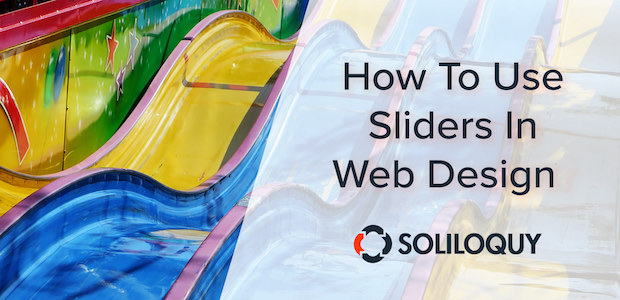 How To Use Sliders In Web Design
Over the years, the way of enticing and engaging the audience in the digital world has changed. This change has caused several businesses to revolutionize the way they conduct business online in terms of revenue and growth.
In contrast, the businesses that have not adapted to the latest technologies and tools experienced a decline in their revenue and observed their competitors getting all the green through the digital world.
Come to think of it, customer experience is strengthened by leveraging the latest web design trends and technologies. This experience leads a business to become the innovator and special one in the eyes of the customers.
So, today we're going to discuss the sliders in web design. I'm going to tell you what they are, how you can use them, and why I believe they're an integral part of your brand's customer experience online.
For starters, the new breed of designers already knows what sliders are when speaking of web designs.
There's a pretty tough debate on them because some web designers like them and some don't, but regardless of the like preference, one thing's for sure: sliders help the users seamlessly see what's trending in a website.
This trend can be your brand's specialty, an innovative product, or maybe you simply want your users to skim through your website easily.
Therefore, the above-mentioned elements make sliders one of the most desired elements of a website. This is why also website builders have included them as an element.
And now that I've got your attention – let's start exploring all there is about sliders in web design.
So, what are Sliders anyway?
A slider generally refers to the slideshow of products or services or anything on any website.
You may have seen several websites on which the products are being displayed through a slideshow.
The best example perhaps of a slider would be a carousel post on Instagram only automated when it comes to a website.
The photos/images in the slideshow are continuously revolving, and this aspect has made sliders famous.
Today, you'll find sliders on many websites, especially eCommerce sites.
Web designers have learned the alchemy of integrating sliders into websites.
And today, whether you've got a business website or you're just eager to display your portfolio to the world – you can easily leverage sliders to showcase your specialty.
Additionally, you can also utilize sliders to foster seamless navigation for your users to your website by narrowing down the special elements of your website through sliders.
Why Sliders Receive Mix Response From Critics?
It would take you hardly an hour to research sliders to determine whether they're liked or disliked by the audience or not.
In the top results that'll pop up in the SERPs, you'll find that there are people who are just not in favor of sliders and people who prefer sliders.
Here are some perspectives of both the people who like and disklike sliders:
Let's debunk the secret of negativity first.
Critics claim that sliders are confusing. They give a brand's audience several options to choose from, and due to this reason, the users get distracted from what they wanted.
Moreover, since UX is all about making choices clear or foster seamless navigation – critics say that sliders should be avoided to maintain a clean and sleek UI and UX.
The following are some other reasons why sliders are considered bad for UX:
Visitors tend to lose their concentration when they see sliders on a website.
Several users treat slider text or images like they do ads (ignore).
Impact conversion ratio slows down your web page and affects SEO.
Some sliders are not mobile responsive.
Their space-consuming; therefore, room for other content gets limited.
The Slider can give the audience an impression that the company wasn't sure what to display, so they display all the products they had via Slider.
Now, just as there's some negativity surrounding sliders – there's also a fan following and this fan following.
Here are some reasons why designers believe that sliders can be a part of a UX:
Their space-saving as the USPs of a store can be displayed via sliders without the need to create separate sections.
The audience usually interacts with the sliders. They click on it or try to move it. This keeps them engaged while lowering the bounce rate.
We all know that the human mind processes images faster than textual content. Hence, sliders can be used to draw the user's attention to a specific place.
Sliders give the users the ability to control what they want to see and what they want to skip.
When Can You Use Sliders?
The use of sliders depends on how you intend to showcase them to your audience. You can either place them strategically on each page while keeping your ultimate goal in sight.
By following the above-mentioned approach, you would end up solidifying and enhancing your brand's presence, vastly contributing to building trust in the audience.
However, sliders can also cause distraction or confusion, and this could majorly impact your sales.
You need to realize that your brand is unique, and the sliders should reflect the uniqueness and now just what's available at your digital store.
A more mature and well-planned approach would enable you to reduce the detrimental factor of sliders.
Ways to avoid this? Well, you can use soft colors or fades, integrate sliders to a website to make navigation easier, and give users control over sliders by placing forward and backward buttons.
Also, since sliders usually have HD images, they can increase page load speed.
For this, you can use the smallest possible images and optimize page load time so that your website opens quickly.
Furthermore, here are some usages of sliders:
Use Sliders to Display Your Specialty
It can be overwhelming for the users to read an entire page to realize what you're good at.
Similarly, large chunks of information can scare the user so much so that they can even leave your website.
You don't want that, right?
Therefore, I would advise you to showcase your product in a series. Let the users see what you have for them, and this series would include only the best of breed products.
The best example here would be to imagine a bank that is offering a credit card to its users.
The bank opted to display the process of swiping a card to get instant cash via sliders on their website.
They uploaded three images in which they've briefly described the process.
The first image contains a person swiping the card through the device.
The second he's entering the information and the amount he wants to receive.
The third image shows him getting his amount seamlessly.
This is the perfect example of a slider's purpose and how it should be placed.
Instead of skimming through an entire instruction manual, the bank simply used slider images to explain the process.
Reflecting The Innovative Side of a Brand
So, you've got a website, you've got tons of traffic, and now you're willing to engage the audience that's coming to your website.
Know that the first impression is the last, and this statement is super-based on the digital world even more than the physical world.
You need to instantly show your customers what you're offering, and for that, you can use homepage sliders.
The homepage sliders will show your audience a brief overview of what you're offering. This will influence your audience's decision positively.
Additionally, if you're someone who's able to constantly offer something new to the audience, sliders can be a perfect way to show your audience what you've got for them this time.
You can update your sliders with new images, news, trending material, or anything to grab the attention of your traffic by making your unique offering the center of attention through sliders.
Convey Powerful Messages Through Photo Galleries
There are times when a single image is enough to persuade the users into buying the product.
But what if you've got a cluster of images that are designed to convert your audience?
I'd say the reward will be doubled.
By leveraging sliders, you can boost your brand's trustworthiness, credibility, value, and more by uploading and showcasing a collection of beautiful images to your audience.
You can create galleries of your products, and if your business niche is real estate or automotive, creating a photo gallery through sliders will prove to be much more than just an engagement component on your website.
The audience is more in favor of seeing multiple high-quality images of a product rather than just reading content, and by creating a photo gallery, you'll be giving them what they want.
This would result in an enhanced customer experience, and you know what they say a happy customer is a repeat customer.
Showcase Your Personal Portfolio
Your audience is more likely to convert once they've seen what you're capable of in terms of deliverables.
Therefore, you can use sliders to showcase your portfolio.
For example, you're a designer with experience of 13 years, and now it's a been there done that kind of situation.
You're willing to showcase your audience of what you've done in the past, and simply uploading everything on your website may just not be what your audience is looking for.
So, what you can do here is that you can demonstrate your skills and abilities and the stuff that you've created over the years through sliders.
Just showcase the most applauded stuff that you've created through sliders and the rest beneath it.
This approach would leave your audience speechless as they could see as little as they can through sliders, or they could explore more samples on your website if they wish.
The eCommerce Advantage
Perhaps the best usage of sliders is in the eCommerce world.
There are several brands out there that have leveraged sliders to display the parent categories of the products that they've got on their website.
Online entrepreneurs are always coming up with new varieties or flavors for their audience, and the best way to showcase these products most effectively is through sliders.
Testing The Effectiveness of Sliders
The process of testing the effectiveness of sliders is pretty simple.
All you need to do is opt for the A/B testing method.
Create a page in which you've integrated the slider functionality. Name this page 'A.'
Now create a copy of the same page and name this page 'B.'
Get both of them live and see how users are interacting with both of them.
See which version they prefer. If you're getting a higher conversion rate or increased revenue on either of the page – this means that that specific page is best for business.
For the page with the Slider, you can also opt for tracking the user's interaction, CTR (click-through rate), and conversion ratio to determine the effectiveness of Slider.
Parting Words
Each website and business niche are different, and selecting the best type of medium to engage the audience respective of the website and business niche is critical for success.
Additionally, your audience is also divided into different types. Some like sliders and those who do not.
Those who do not may have had a poor experience with a slider; hence, they dislike it.
I've already told you above how you can use sliders in your web design to revolutionize your customer experience.
The competition is tougher than it ever was today in the digital world and leveraging every opportunity to engage, excite and impact your audience may just be the key to success.
Therefore, I would recommend that you give sliders a try. They're certainly effective and capable of increasing your audience's browser experience.