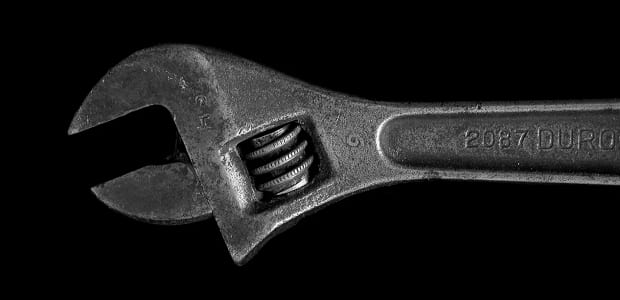 How to Configure Soliloquy Addons
Soliloquy comes with a variety of useful slider addons you can use to spice up your carousels. Do you want to know how to configure them? From dynamic and Instagram sliders to thumbnails and lightboxes, there's a lot to take in. If you find yourself confused by all the checkboxes, this guide will walk you through configuring Soliloquy addons.
You'll need to install Soliloquy and create a slider before you can activate and configure addons. Don't forget that some require a certain license to use.
Step 1.

Configure Slider Addons

Step 2.

Configure Content Addons

Step 3.

Configure Extra Addons
Step 1. Configure Slider Addons
Soliloquy comes with multiple plugins dedicated to changing how your slider looks or functions.
Many of these share similar configuration options; here are the basics.
Width/Height:

Maximum size of the image, which will adjust to fit screen size. This is different from

Slider Dimensions

in

Config

.

Margin:

The space between each image. Use small numbers!

Loop:

A carousel or thumbnail can snap back to the beginning or continue scrolling.
Slider Themes
Themes allow you to change your slider's appearance with stylish templates. To apply one, go to Config » Slider Theme.

Carousel Addon
A carousel is a clean, professional way to present multiple images at once. It works particularly well with merchandise and products. You can find its settings in the Carousel tab.
Tick Enable Carousel Slider.
Carousel Slides Minimum/Maximum:

You can usually make this the same number.

Number of Slides to Move:

How many slides advance when you click the arrow? Should it zoom to a new set of images or only move a few?
Don't forget to turn carousels on under Mobile.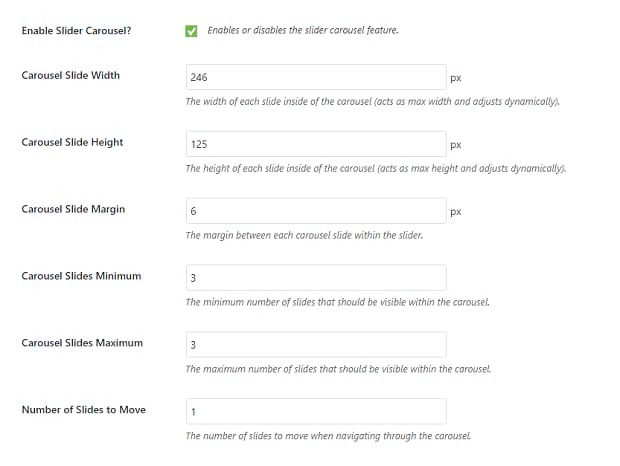 Lightbox Addon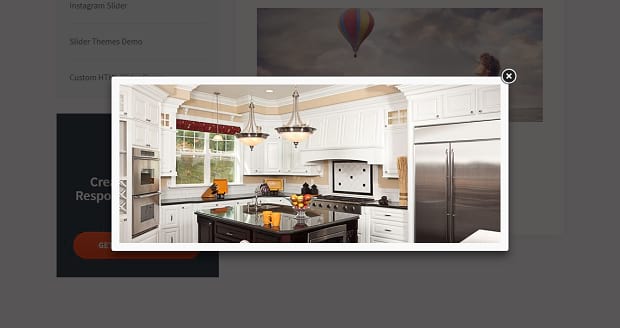 A lightbox highlights images by darkening the background, allowing visitors to get a good look.
Find the Lightbox tab and enable it.
Theme:

Similar to slider themes, you can give your lightbox a subtle alteration!

Enable Lightbox Arrows/Keyboard and Mousewheel Navigation:

Enable or disable navigation options in lightbox mode. Do you want users to scroll through, or only look at one image at a time?

Keep Aspect Ratio:

Generally left on to avoid blurry images.

HTML5 Output:

Ignore unless you validate your site with an HTML checker.

Load Videos in Lightbox:

If you want your videos to play in a lightbox.
More lightbox settings are under Mobile.
Thumbnails Addon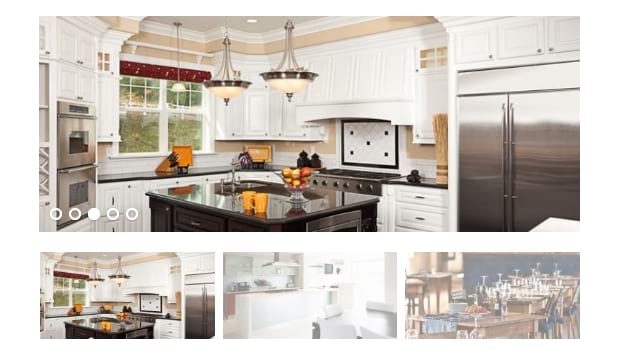 Finally, the thumbnails addon, which adds previews of upcoming images. It also has its own tab, under Thumbnails.
Visible Thumbnails:

Be careful; too many can cause tiny preview images.

Crop Thumbnails:

When thumbnails need to resize, should they scale, or crop and maintain resolution?

Show Navigation Arrow:

An extra navigation arrow in the thumbnail area.
There are also settings under Lightbox and Mobile.
Step 2. Configure Content Addons
Some Soliloquy addons let you add new types of content to your slider.
CSS Addon
You can insert custom CSS in individual sliders! Add padding, borders, and any other styling in Custom Slider CSS » Misc.
Featured Content Addon
Featured content creates a slider from pages on-site. To make one, click External Slider » Featured Content.
Post Type/Taxonomy Terms:

This pulls from post types and their categories, like "Tutorials" within "Posts".

Taxonomy Term Relation:

Should articles have

some

of those categories, or

all

of them?

Include or Exclude:

Creates a slider that excludes or only includes specific posts. Ignore if unnecessary.

Sort/Order Posts By:

Create a slider that sorts by recent, popular, alphabetically, randomly, and more! Use ascending order to reverse results.

Number of Slides:

How many slides display before overwriting new content?

Post Status:

Get images from posts with statuses like Archived or Submitted!

Post Content to Display/Number of Words:

Post snippets are turned into captions. Choose the type of excerpt, and set its length.

Output as HTML:

Retrieve content with formatting intact, or as plain text.

Read More Link:

A call to action is always helpful, and you can edit it to fit your content.

Fallback Image:

Make sure to assign one of these so that your slider won't break if there aren't any images on the page!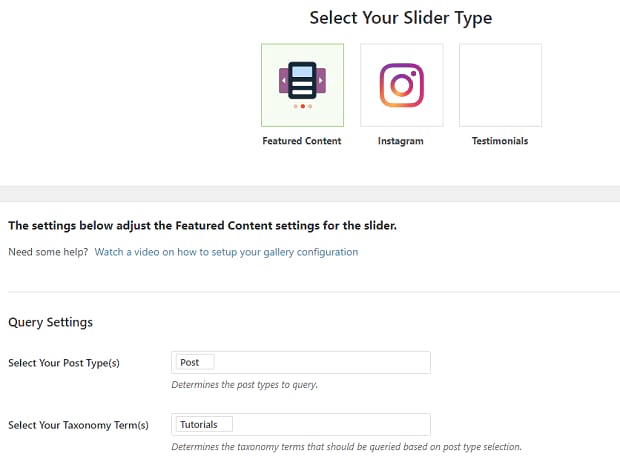 Instagram Addon
Want to turn your Instagram account into a slider? You can use photos, liked images, or even tags! Link back to the original image, or disable captions for an immersive experience. Cache Data will prevent slow loading.
Dynamic Addon
The dynamic addon works somewhat differently, pulling images from certain places. An empty slider is created with adjustable defaults. To use a dynamic slider, paste its shortcode or template tag into the editor, then define parameters to tell it what you want to display.
Step 3. Configure Extra Addons
Finally, there are addons that don't quite fit in anywhere else!
Pinterest Addon
Adding a Pin It button is easy; just go to the Pinterest tab, change its position, and choose a color.
You can also add a Pinterest button in Lightbox.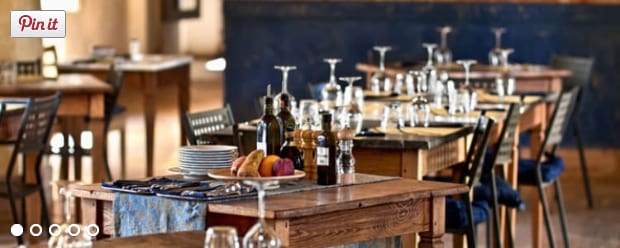 Protection Addon
Protection disables right click, saving images from theft. To enable Protection, go to Misc » Enable Image Protection.
Defaults Addon
This creates an empty slider to edit, and its settings are then inherited by new ones you create. Go set default settings and eliminate hours of work!
Tweaking Slider AddonsCSS
It's easy to configure Soliloquy addons once you know where the options are and what they do. Soliloquy slider addons have a range of customization available, so start playing with settings and see what creative carousels you can make!
Interested in addons? Then you'll want to read these.
Please follow us on Facebook and Twitter if you want more WordPress articles and Soliloquy tutorials!