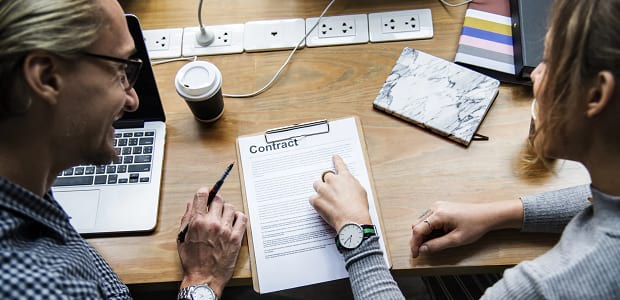 How to Add Your Privacy Policy in WordPress
When you create a website, whether you collect information from your visitors or not, it's very important to have a privacy policy that clearly outlines how you collect and what you do with user information. In most situations, this isn't just a formality, but a legal requirement.
Though a typical non-ecommerce blog probably doesn't have to worry too much about the GDPR, it's good to have a sound privacy policy no matter what type of website you run in WordPress.
Whether you already have a privacy policy and just need to add it to your website or you haven't made one yet, this guide will help you create a policy and add it to your website — without hefty lawyer fees.
Creating and Adding Your Privacy Policy
With the GDPR in effect, it's more important than ever to write a sound policy that will protect your company. Comments, advertising, analytics, and any collection of information must all be disclosed. But when you can't afford to hire someone to write a policy for you, what can you do? Cobbling one together yourself isn't a great idea. Luckily, there are multiple ways to create this essential addition to your website without breaking the bank.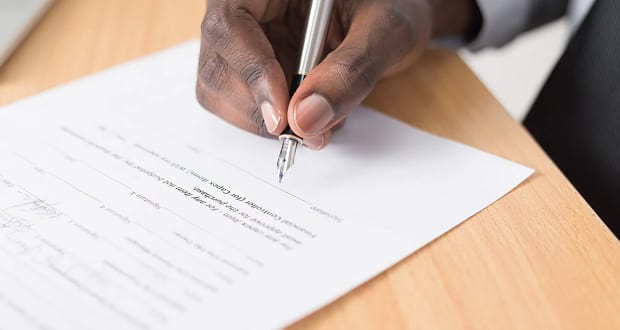 With Auto Privacy Policy Plugin
If you want to use a plugin to generate a privacy policy with a shortcode, Auto Terms of Service and Privacy Policy is for you. The plugin uses a modified version of the ToS and privacy policy of Automattic (the creators of WordPress.com and many plugins for WordPress). This version is more generic and has room for your website's name and information.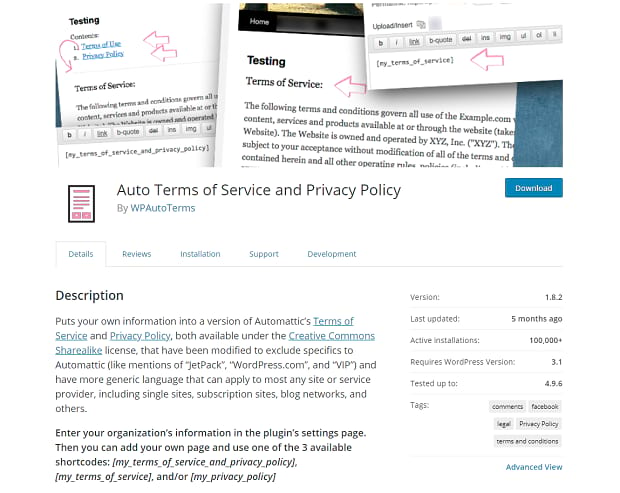 All you need to do is put your company's information into the plugin's settings page. Then you'll get a few shortcodes you can add to your site, and you have yourself a privacy policy! While it's best to get one made custom for your blog, this should suit any small businesses or individuals who need a simple policy.
The plugin is only available in English and was drafted with the laws of the United States in mind. So if you need a privacy policy for another country or language, you'll need to look elsewhere.
Also, the plugin doesn't automatically add a page or navigation link for the privacy policy you create, so read on to learn how to place and link to your new policy.
Without a Plugin
There are a few ways to draft yourself a privacy policy without using a plugin. The first is, of course, hiring an attorney. If you can reasonably afford to do so, and your company has grown far out of the range of "small business", it's best to do this. Barring that, there are many low-cost or free ways to draft this necessary legal document.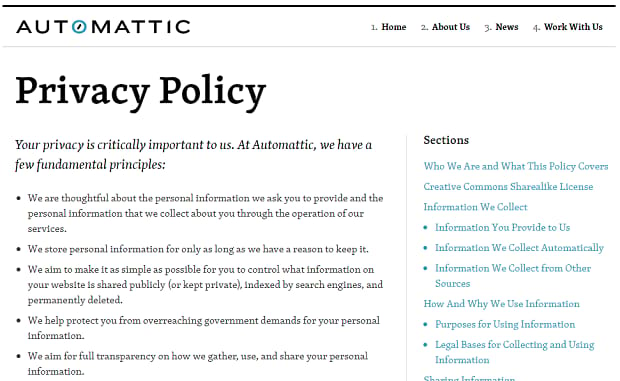 Firstly, you should never copy another website's legal documents (even ones released under Creative Commons, such as WordPress.com's privacy policy). Unless you know your legal jargon, this can be a recipe for disaster. These policies are too specific to apply to your websites, and replacing their company name with yours won't be enough.
WordPress provides an example privacy policy that you can edit, found under "Settings", then "Privacy". Add the privacy policy to the page you want, or create a new page for it. Then fill it out with your company's information and any other relevant info. Make sure to include what data you collect, how you collect it, and why.
You can also use a privacy policy generator. Though many aren't tailored for WordPress, these helpful pieces of software allow you to simply enter your information, check off what types of data you use, how you collect it, and so on, and automatically draft up a great privacy policy. Many of these tools are low-cost or free to use.
There's the Privacy Policy Generator by Shopify that only requires an email, Termsfeed's freemium privacy policy generator, FreePrivacyPolicy.com with a low one-time payment for extra features, PrivacyPolicies.com that includes international policies, and GetTerms.io with its simple free generator and affordable plans. All of these either have a generator you can use for free or reasonably priced plans. For those who operate in the EU and require GDPR compliance, you may need to pay a bit extra.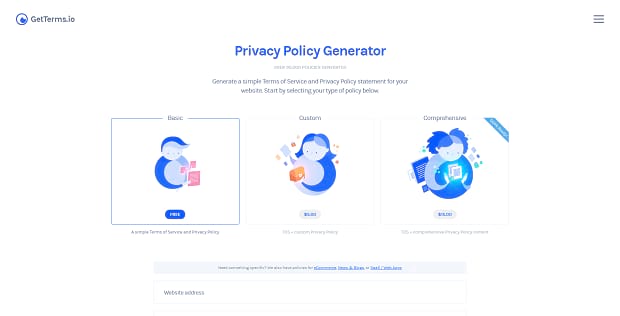 Making a Page and Linking to Your Policy
Once you've made your privacy policy, or if you've already crafted one before, you'll need a place to put it. Unless you used WordPress' sample, you should create a new page on your site. To create a page in WordPress, go to your admin panel. Under "Pages" in the sidebar at the left, click "Add New".  (You can also hover "New" at the top and click "Page".) All you need to do is paste your privacy policy into the editor and click "Publish" or "Update". Feel free to tweak the styling to your liking!
However, a privacy policy doesn't do much if no one can read it. The best way to make it visible is to add a link to your footer. You could also add it in the sidebar, navigation menu, or elsewhere in your site, but it's best to make sure it's visible on every page.
The easiest way is to add a text widget to your footer. Most themes will have a footer you can easily edit, and you may be able to simply drag and drop a text widget with a link to your privacy policy.
If this isn't an option, try creating a custom menu. Go to Appearance, then Menus on your WordPress dashboard. Here add your menu named "Privacy Policy". Make sure to add a link to the policy page. Then go to Appearance, then Widgets and find the "Navigation Menu" widget, which you should add to the footer. Change the menu to the privacy policy widget you just created, and save.
Now make sure your link is in the footer and styled how you want, and you're finished!
If your theme doesn't support footers, you'll need to add it elsewhere, such as the sidebar or other navigation areas.
Security for Your WordPress Site
With a proper privacy policy, your website is more accessible to users, and you're less likely to be hit with hefty fines. Now that you know how to create and add a privacy policy, you can rest knowing that your small business or blog is much safer!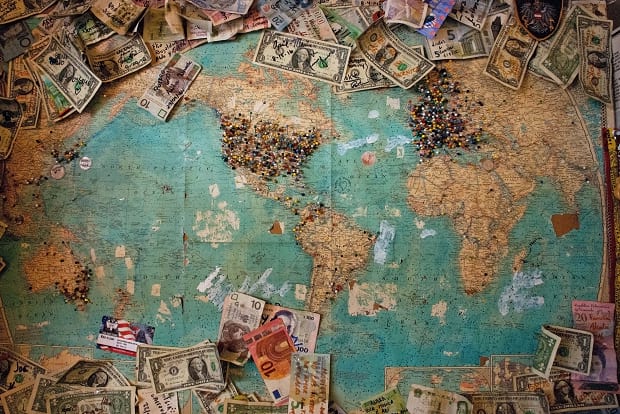 However, remember that a privacy policy generator is no stand-in for a sound legal document. They're often only meant to tide over small companies and individuals who don't collect a lot of user data and don't need to worry so much about these things! Once you have the means, or if you operate internationally, you may wish to hire an attorney to draft your privacy policy for you.
We hope this article helped you create and add a privacy policy to your site. Want more guides like this one? You can find more useful plugins here and here, or you can follow us on Facebook and Twitter to learn more useful WordPress skills!
SaveSave