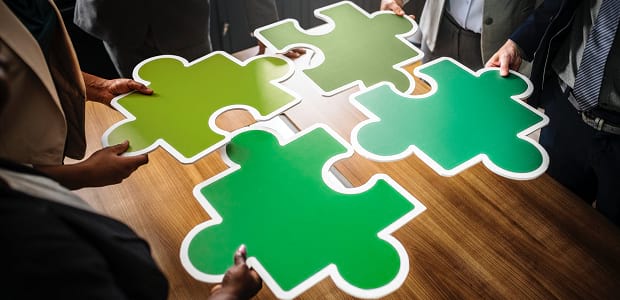 How to Combine Soliloquy With Other Plugins
Do you want to use Soliloquy alongside other plugins? Soliloquy sliders are compatible with basically any plugin that uses shortcodes to display something. Want a form, a button, or another element inside your slider? It's doable, easy! Follow this guide to learn how to insert shortcodes into your slider, and a few suggestions of compatible plugins.
Step 1.

Install Soliloquy and Create a Slider.

Step 2.

Add Third-Party Plugins.

Step 3.

Preview and Publish.
Step 1. Install Soliloquy and Create a Slider
To get started, you'll need to install Soliloquy. Our installation guide will walk you through it. HTML slides can be created on any license type, though you may need a certain license if you want to try an addon like Slider Themes or pair your third-party forms and buttons with WooCommerce products.
Once you have Soliloquy installed and activated, go to your admin dashboard and click Add New to begin creating a slider. Click Select Files From Your Computer, or drag them onto the page, to upload a few images.
Familiarize yourself with Soliloquy by tweaking the settings. You can access the settings from the tabs on the left. These will allow you to change how your slider looks, or enable and configure any addons you've installed for this slider. You can also edit your individual images by clicking the blue pencil icon.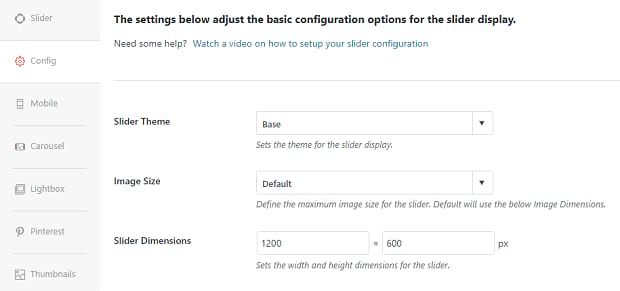 Step 2. Add Third-Party Plugins
Once you're done editing, it's time to insert a plugin into your slider. You'll need to install a plugin that uses shortcodes like Shortcodes Ultimate, MaxButtons, or a contact form plugin. Some plugins will also need set up before they can generate a shortcode for you to use.
Copy the shortcode of the element you want to add to your slider. Click Select Files From Other Sources, then Insert HTML Slide. Now just paste in the shortcode. You can add in some extra HTML styling here too if necessary.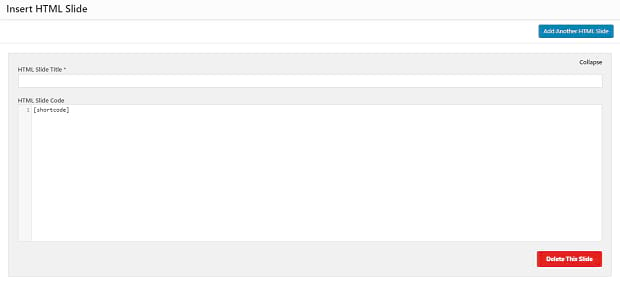 You can also click the blue pencil to edit an image you've uploaded to your slider, and paste in a shortcode into the Caption field. This works great for buttons and similar plugins.

That's all you need to do. To add new elements on a different slide, just insert another HTML slide.
Step 3. Preview and Publish
With your slider finished and saved, it's time to make sure the plugins are displaying properly. You may want to tweak things like slider size or making navigation bullets only appear on hover to make Soliloquy mesh better with the third-party plugin. So make sure everything looks right before you publish.
To publish a Soliloquy slider, you'll need its shortcode. Find it in the Soliloquy Slider Code sidebar and copy it, then go to the post or page you want to add it to. Just paste it in, then click Preview to see your new slider in action!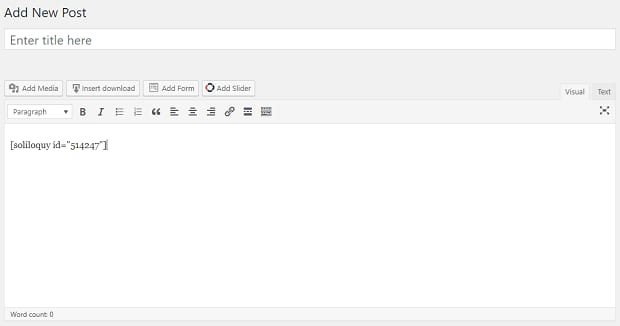 If something doesn't look quite right, just go back to your slider. Try changing the dimensions to make it larger, or tweaking the other plugin's settings until your slider looks perfect.
Soliloquy Plus Anything
Combining plugins is a great way to vary up your website, and a slider is a great place for various elements like buttons or forms. End your text slider introducing your company with a sign-up form, or include a stylish call to action button. All it takes is a shortcode!
If you're in need of some new plugins that work with Soliloquy, don't forget to read Plugins to Pair with Soliloquy.
Did you like this? Follow us on Facebook and Twitter for more WordPress tips and slider tutorials.