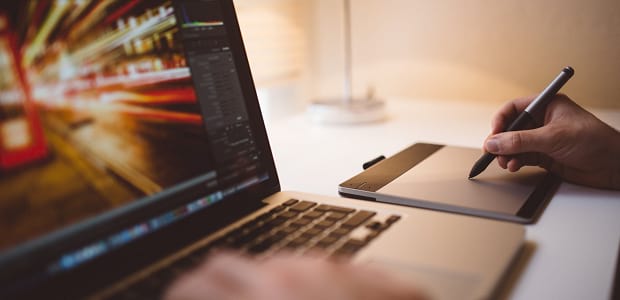 How to Edit Slider Content
Want to edit the content of a Soliloquy slider you've already made? Once you've created a slider, you might want to go back and change something. Maybe you need to add new images, change the size, or update a slider with a new addon. Let's learn how to edit Soliloquy sliders so you can make the changes you need.
Step 1.

Create a slider

Step 2.

Find your slider

Step 3.

Upload new content

Step 4.

Change settings

Step 5.

Save and publish your slider
Step 1. Create a slider
If you haven't downloaded Soliloquy and created your first slider yet, you'll need to do that before you can go back and edit your sliders. With the plugin installed, you'll have a new Soliloquy section on your WordPress admin page.
Go to Soliloquy » Add New to make a slider. Make sure to give it a memorable title so you can find it again.
When your first slider is created, save it until you're ready to come back later.
Step 2. Find your slider
Once you've made a slider, now you need to find it again so you can get back to editing. Go to your admin dashboard and simply click Soliloquy to be taken to the list of sliders.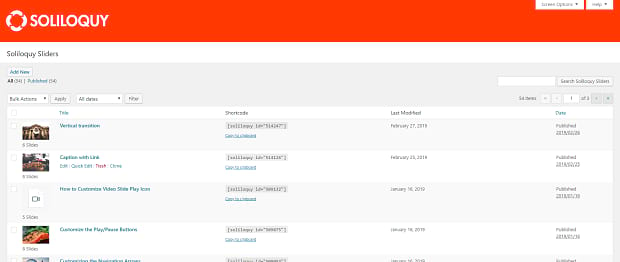 If you saved your slider, you should be able to find it in this list. Note that, if you've activated addons like the Defaults addon, you might see a few other sliders here. Make sure to give your main sliders a unique title so you can easily find them in the list.
Having trouble? Click Title or Date to sort alphabetically or by creation date, respectively. Use the Filter to only show sliders created in a certain month. And there's even a search tool so you can type in the title and find it!
When you've located your slider, just click it to go to the editing page. Or use Quick Edit to change the name, theme, publishing status, or transition effect on the fly.
Step 3. Upload new content
Time to replace some images? To upload new images, just drag them from your computer onto the page, or click Select Files From Your Computer. You can also upload text, PDF, and video slides by clicking Select Files From Other Sources.

Then just drag and drop the images in the Slider section to change how they're ordered, or randomize the slide order. Alternately, are you tired of some of the slider images? Just click the big red X in the corner of the photos you no longer need. If you just don't want them to show up but do want to keep them, click the green eye to make that slide invisible.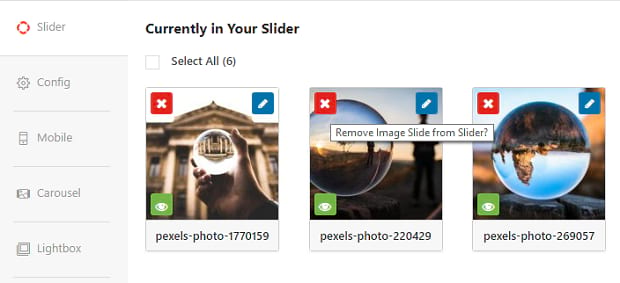 Step 4. Change settings
Are you looking to change how your slider looks and acts? You might need to customize your slider a bit more. Go to Config to change the size, theme, and general appearance of your slider. You can also change transition animations and navigation options.
Have you just installed an addon and need to add it to a previously created slider? Learn where to find each add-on's settings. Many create their own new tab with a batch of settings. Some can be found under Misc.
Step 5. Save and publish your slider
Once you're done, don't forget to save or you'll lose all your updates! Just click Update and all your settings will automatically take effect. No need to do anything.

If you want to move your slider somewhere else, go to the post or page it's on and removes the shortcode. You can highlight it and press Ctrl-X to cut. Now go to the post/page you want to add it to and click Ctrl-V to paste it in where you want it. Remember to save both the pages you edited too.
Editing Soliloquy Sliders
Even when you've made the perfect slider, your work may not be done. Sliders might need fresh new images, updated captions, a new look, or settings applied from your newest addon. You should know how to edit your sliders so you can change them whenever you need to.
Now that you know how to change your slider, it's time to edit it and make sure you're following these slider best practices.
If this was helpful, let us know by following us on Facebook and Twitter!